What People Are Saying About Trump's Likely Move to Roll Back Obama's Protections For Trans Kids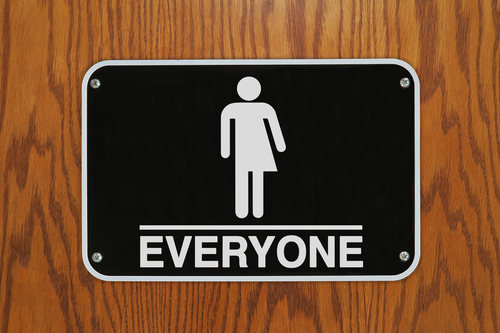 Under President Barack Obama, an order came down mandating that schools allow trans kids to use the bathroom that most closely aligns with their gender identity. Reports now indicate that Donald Trump's White House is gearing up to change that.
Reactions vary, but the opposition to this likely move is very strong.
.@realdonaldtrump will go down as most divisive president in history. Plan to attack trans kids is beyond the pale. https://t.co/9XoXlJ6ssy

— Chad Griffin (@ChadHGriffin) February 22, 2017
Trump is going after trans kids today. Rescinding Obama's era guidance that permits trans kids to use the goddamn bathroom.#ButHerEmails

— Imani Gandy (@AngryBlackLady) February 21, 2017
There it is. LGB folks, Trump is not protecting any of us if he attacks queer & trans friends. Do not stand for this. https://t.co/cxAKIzfYnw

— Rachel Stark (@syntactics) February 22, 2017
Educators haven't "struggled to understand" guidance on respecting trans students. They *asked* for this policy. https://t.co/PUDvsxTlJF

— Alexandra Brodsky (@azbrodsky) February 22, 2017
Reports that Trump Admin will rescind trans student protections. Shocking this kind of harm would even be subject of debate. #LoveTrumpsHate

— HumanRightsCampaign (@HRC) February 22, 2017
While everyone was praising "Javanka" the gay-friendly Trump whisperers, he is rolling back protections for Trans students.

— Bakari Sellers (@Bakari_Sellers) February 21, 2017
TRANS STUDENTS SHOULD HAVE EVERY RIGHT THAT CIS STUDENTS HAVE, INCLUDING THE RIGHT TO USE THE BATHROOM AND SAFE ACCESS TO EDUCATION. PERIOD.

— Renee Bracey Sherman (@RBraceySherman) February 21, 2017
Is there anything simultaneously so pointless, so petty, and so viciously cruel as GOP obsession with where trans kids go to the bathroom? https://t.co/CuHpy0G9Kg

— Susan Hennessey (@Susan_Hennessey) February 21, 2017
Notably, according to the Washington Post, which obtained a draft of the letter that will rescind the Obama guidance if and when it is sent to schools today, Education Secretary Betsy DeVos was opposed to rolling back the protections. The Trump administration moved forward with the plan anyway, citing "significant litigation" caused by the original guidance.
At the beginning of the month, reports indicated that it was Ivanka Trump and husband Jared Kushner who were able to talk the president and his team out of rolling back protections for others in the LGBT community. It remains to be seen if they can or will do that again now.
[image via John Arehart]
——
Have a tip we should know? [email protected]