'When the Mainstream Media F*cks Up': Citizen Radio's Kilstein, Kilkenny Talk to Mediaite About Newsfail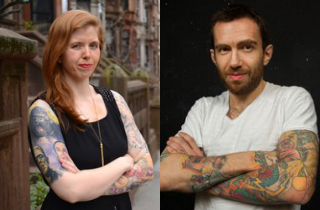 "The job of the journalist is to amplify the voices of the marginalized," Allison Kilkenny and Jamie Kilstein write in Newsfail, their just-released book from Simon & Schuster. "To do that you have to hear those voices in the first place."
Amplifying voices has been the pair's quest since they founded Citizen Radio, a daily podcast show that highlights issues mainstream media outlets avoid: prison reform, rape culture, transgender rights, drone policy, climate change. At first episodes were recorded on cell phones; since those scrappy beginnings the show has grown to welcome guests like Matt Taibbi and earn the praise of Robin Williams and Noam Chomsky (and the scorn of a host of conservatives).
The struggle of building an independent media franchise free from both corporate control and ratings lust also revealed the gaps in mainstream news coverage, from newsroom diversity to marginalized topics to the way the Daily Show has become an unfortunate stand-in for liberal critique. Newsfail traces these problems from the ground up, showing how facts are excised, viewpoints sidelined, prejudices promoted. If you've ever watched a news segment on climate change and been appalled at the inclusion of a coal CEO — or wondered where the climate change segments are at all — Newsfail is both a diagnosis and corrective.
Kilkenny and Kilstein met "in the most clichéd fashion possible" — post-grads barely scraping by stocking the shelves at Borders. They were living together within two months, as Kilstein honed his political standup and Kilkenny freelanced. Soon the former was landing a Conan gig (where his drone bit didn't go over too well) and Kilkenny was writing for the Nation, among other reputable sites.
But it was the spread of alternative media, epitomized in platforms like Democracy Now, that pointed to their twined calling. "We had more to say than I could say on stage and Ally could say in writing," Kilstein said. "It was right when podcasts started, and it was like, we could say whatever we want."
Dirty Wars author Jeremy Scahill told them to skip trying to compete with CNN and hone in on stories that were being missed.
"He told us, we have to be so good and so on top of it that the mainstream media is forced by demand to cover these stories," Kilstein said, citing the Steubenville rape case and the shooting of Michael Brown as examples.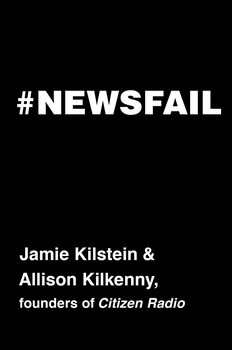 Even still, pushing a story onto CNN or MSNBC is no guarantee of good coverage. Kilkenny and Kilstein remind readers that when CNN covered the Steubenville trial, two female CNN anchors sympathized on-air with the rapists. "Your one job should be 'don't sympathize with rapists,'" Kilstein said. "But at least they were talking about it."
But diversifying newsrooms requires an authority who understands the importance of including other voices. The pair praised Melissa Harris-Perry's weekend MSNBC show as a rare instance of a truly diverse slice of cable news, an exception that unfortunately proves the rule.
"Melissa made a conscious decision to surround herself with very diverse people. As a result that have the most diverse panel and crew on mainstream TV," Kilkenny said. "But it's crafted in a very strict hierarchical system. Unless you have that strong leadership at the top that's mindful of that, it's very tough."
Instead the pair sees blogs and Twitter as more effective platforms to launch underrepresented voices. "Alternative sources, including Twitter, start generating things, and eventually the mainstream media pick it up," Kilkenny said, arguing that Twitter activists tend to be IRL activists as well. "People mock hashtag campaigns, but they're really effective. The mainstream media picks up on it. They're mining Twitter all the time for content."
"Change won't happen overnight," Kilkenny added. "First they cover it badly. Alt media leans on them and maybe the coverage gets better. There needs to be an answer when mainstream media fucks up."
[Image via Kevin Allen Caby / Jakub Moser]
——
>> Follow Evan McMurry (@evanmcmurry) on Twitter
Have a tip we should know? tips@mediaite.com