When The Media Runs Out Of Things To Talk About: Romney's Father Had Free McDonalds For Life Card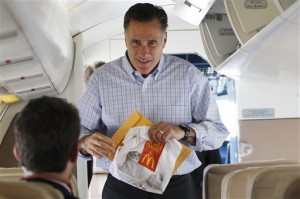 Candidates often love telling stories on the campaign trail, but it's only on those rare occasions that some part of a candidate's family history turns into a news story. And it was on this day that Mitt Romney revealed to all the world that his father, George Romney, was presented with a card by McDonalds businessman Ray Kroc him free McDonalds food for life. Because what sounds more relatable to voters than an anecdote about your businessman father being presented a card for free food by another businessman?
RELATED: Oh, Snap! McDonald's Throws Down The Fatty Gauntlet In Mayor Bloomberg Attack Tweet
Perhaps all the recent national hubbub over fast food and social values inspired Romney to share it, but nonetheless Romney told the story at a campaign event today in Chicago.
"I found a little paper card, a little pink card, and it said this entitles George W. Romney to a lifetime of a hamburger, a shake and French fries at McDonald's. It was signed by the hand of Ray Kroc. My dad had done a little training lesson or whatever for McDonald's when there was just a handful of restaurants and I saw this thing and was like, 'This is a gold mine, Dad! What are you doing?' So I had it laminated. My dad, as you know, would go almost every day to a McDonald's restaurant and get either a hamburger or a fish filet sandwich. And he would present this little card and of course the person behind the counter would look and say, 'Well, what is that?' They'd never seen something like that, but he said it was never turned down. They always honored it."
This story was picked up by ABC, CNN, TIME, and The New York Times, because everyone has clearly run out of different ways to mock Harry Reid.
—–
Follow Josh Feldman on Twitter: @feldmaniac
Have a tip we should know? [email protected]
Josh Feldman - Senior Editor