While Visiting Israel Sarah Palin Cuts Visit To Palestinian Controlled Bethlehem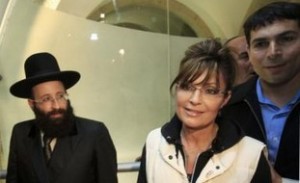 Sarah Palin's trip to Israel (following a visit to India) has inspired a few questions, including musings on whether the visit is an attempt on Palin's part to 1) bolster the public's perception of her where foreign policy is concerned and 2) earn the admiration and backing of Jewish voters should she decide to run for office. Some reports have noted that Palin, who is Christian, has been wearing a Star of David necklace during her trip.
So far, Palin has visited the holy city of Jerusalem, where she took a tour of the Old City's Western Wall tunnels, and taken time to meet with Prime Minister Benjamin Netanyahu as well as right-wing politician and Danny Danon However, she today decided to cancel a planned visit to Bethlehem for reasons unknown.
A white van carrying Palin and her husband, Todd, was reportedly stopped near an Israeli military checkpoint outside Bethlehem before eventually turning back. McClatchy reports that neither Palin nor her husband exited the vehicle, nor did anyone in the van speak with the soldiers at the checkpoint.
Israel's defense ministry confirms that Palin did not make a formal request to visit the West Bank – where Bethlehem is located – which is "standard protocol for any foreign dignitary." However, some have noted that those with a U.S. passport can enter Bethlehem by simply showing their identification at the checkpoint.
There is, of course, some speculation as to why Palin may have had second thoughts about entering the West Bank. Palestinian officials, who said they were disappointed about the change of plans, pointed out that Palin had written a controversial Facebook post that may have factored into her decision to avoid the West Bank:
As Israel makes concessions (and is still criticized by the Obama Administration), Arab leaders are just sitting back waiting for the White House to further pressure Israel. The Obama Administration needs to open its eyes and recognize that it is only Iran and her terrorist allies that benefit from this manufactured Israeli controversy.
h/t Telegraph
Have a tip we should know? tips@mediaite.com