White House: Convicted Dem Congressman 'Was a Supporter of President Obama's Campaigns'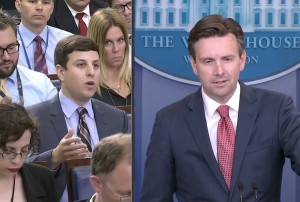 You might think that upon learning that a congressman had been convicted on federal corruption charges, the first reaction of a presidential administration might not be to boast of that convicted congressman's past support, but these are unusual times. At Tuesday's White House daily briefing, Press Secretary Josh Earnest did just that in response to a question about the guilty verdict in Rep. Chaka Fattah's (D-PA) federal corruption trial, begging off a reaction to the actual verdict but noting that "Congressman Fattah is somebody that was a supporter of President Obama's campaigns. That's just a fact."
Context, of course, is everything, and it appears that when The Hill correspondent Jordan Fabian delivered the fresh news, Earnest decided to call an audible in support of an unrelated administration priority:
Jordan Fabian: Thanks, Josh. Just before the briefing, Congressman Chaka Fattah was convicted of federal corruption charges, and I'm wondering if the White House has any reaction to that conviction.

Josh Earnest: Jordan, I saw that report shortly before I walked out here, so I don't have a reaction to it at this point. But we'll take a look and see if we can get you a reaction. Obviously — I think this is pretty good evidence that the Department of Justice is faithful to their mandate to pursue justice irrespective of political affiliations. Congressman Fattah is somebody that was a supporter of President Obama's campaigns. That's just a fact. But as it relates to this specific investigation, I don't have a reaction at this point.
Earnest's ad lib was intended to counter the repeated implication that the Obama administration might be influencing the Justice Department inquiry into email practices that has hung over Hillary Clinton's presidential campaign. Good point, I guess?
It's very unusual for a press secretary to volunteer any sort of a comment in a situation like this, so whatever you think of Earnest's response, it indicates that the independence of the Justice Department is an issue that the administration cares about a great deal.
Have a tip we should know? tips@mediaite.com