White House Officials Are Reportedly Not Resigning in Order to Keep Trump in Check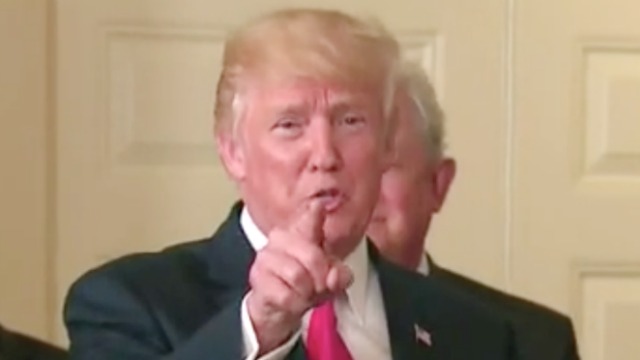 In the aftermath of President Donald Trump's explosive and off-the-rails press conference in which he blamed "both sides" for the violence and Charlottesville and provided cover for the alt-right, quite a bit of attention has been placed on the White House and whether or not senior aides and officials would jump ship.
However, nearly a week after the insane presser, and reports of some grousing (such as chief economic advisor Gary Cohn), nobody has quit in protest of the president's comments. And over the weekend, Treasury Secretary Steve Mnuchin wrote a response to his Yale classmates who had called on him to resign, stating that the president doesn't believe neo-Nazis are the same as counter-protesters and that if Trump did, he'd surely leave the administration.
Well, according to Axios, others have their reasons for staying, and one of those reasons is they're concerned what will occur if they leave and the president is left to his own devices.
"You have no idea how much crazy stuff we kill": The most common response centers on the urgent importance of having smart, sane people around Trump to fight his worst impulses. If they weren't there, they say, we would have a trade war with China, massive deportations, and a government shutdown to force construction of a Southern wall.
Beyond the concerns over what "crazy stuff" Trump would publicly push if they weren't around, senior officials also told Axios that they're staying because the defense secretary needs them, Trump's really not all that evil, and that they like the power.
This all sounds very reassuring.
[image via screengrab]
—
Follow Justin Baragona on Twitter: @justinbaragona
Have a tip we should know? tips@mediaite.com