White House Deputy Press Secretary Josh Earnest is pushing back against claims made by NBC News that the Obama Administration is delaying the Affordable Care Act's individual mandate due to problems with the HealthCare.gov website.
In a tweet sent out shortly after the story aired on NBC Nightly News, Earnest clarified that the deadline for having insurance remains March 31st, 2014. "NBC is wrong again," he wrote.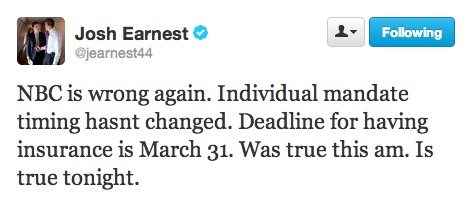 Earnest elaborated in an email, as Mediaite's Tommy Christopher reported last night:
Under ACA, if you have access to affordable coverage but choose to be uninsured for 3 consecutive months in a calendar year, you would face a penalty. In other words, you need to have insurance by the end of March to avoid a penalty in 2014. In the Marketplaces, you have to sign up by the 15th of a given month in order for health insurance to start on the first day of the next month. In other words, you have to sign up by Dec. 15th to get coverage starting Jan 1; or by January 15th to get coverage February 1. As a result, some have asked whether consumers could face a tax penalty if they don't enroll in coverage by Feb. 15th of next year. This is not the case. If you sign up for insurance by the end of March, you will not face a penalty. The guidance that the Administration will issue soon will reinforce this.
The substance of Earnest's clarification was present in the NBC News report, with correspondent Tom Costello saying, "As the law stands now, to avoid a tax penalty the uninsured need to start the process by February 15th. With this change the administration is trying to allow people to start the enrollment process by March 31st to avoid any financial penalty."
But NBC News took this to mean a 6-week delay in the individual mandate, a line they used on the air as well as on Twitter, where news of the effective delay spread quickly Wednesday afternoon: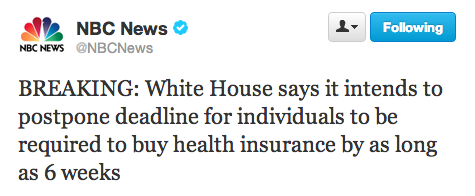 What the White House appears to be saying is that as long as people sign up for insurance before March 31st, they will not be penalized, even if that insurance does not go into effect until several weeks later. White House Press Secretary Jay Carney explained the then-in-the-works change at length during Monday's daily briefing, in an exchange with CNN's Brianna Keilar:
Watch the original report from NBC Nightly News below:
UPDATE (12:10pm ET): NBC News' Chuck Todd also took pains to clarify in tweets last night that the White House was planning to delay the "enrollment deadline" and not the individual mandate: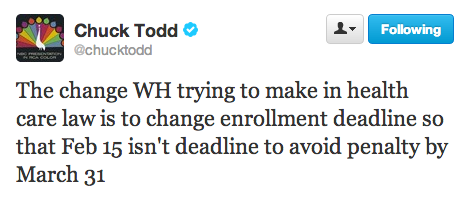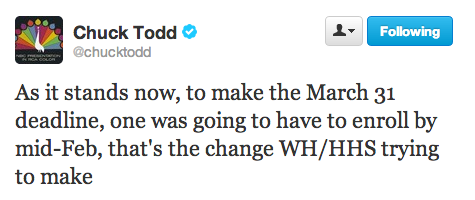 Additionally, subsequent feeds of the NBC Nightly News broadcast were updated to emphasize the delay in the signup deadline, not the mandate itself. It is that version that now resides on NBC's website:
Visit NBCNews.com for breaking news, world news, and news about the economy
[h/t TVNewser]
[photo via screengrab]
— —
>> Follow Matt Wilstein (@TheMattWilstein) on Twitter
Have a tip we should know? tips@mediaite.com