White House Reportedly Drafted Niger Sympathy Statement That Trump Never Used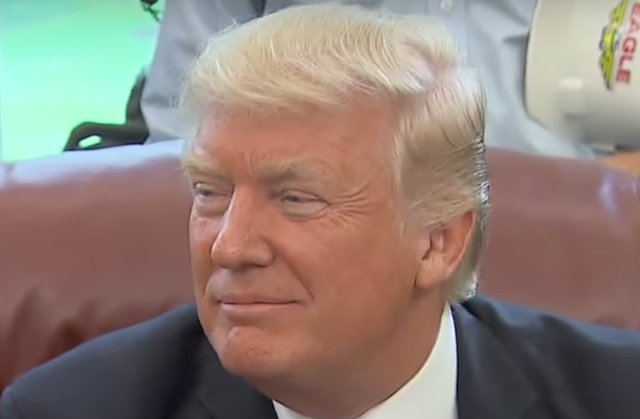 Politico is reporting that a National Security Council staffer wrote up a statement for President Donald Trump to use in the aftermath of the ambush in Niger earlier this month that killed four US soldiers.
According to the report, the statement was drafted on Oct. 5th, almost immediately after the incident took place. However, for some reason, the president did not use or release the statement. It would be almost two weeks before the president finally publicly acknowledged the soldiers' deaths during a presser on Monday. It was at that press conference that Trump falsely claimed that former President Barack Obama and other presidents didn't contact the families of fallen soldiers.
Below is the draft statement, per Politico:
"Melania and I are heartbroken at the news that three U.S. service members were killed in Niger on October 4 while providing guidance and assistance to Nigerien security force counter-terror operations. We offer our deepest condolences to the families and friends of these brave American soldiers and patriots. They will remain in our thoughts and prayers.

"We are also praying for the two U.S. service members who were injured in the incident. We wish them a complete and swift recovery.

"The heroic Americans who lost their lives yesterday did so defending our freedom and fighting violent extremism in Niger. Our administration and our entire nation are deeply grateful for their sacrifice, for their service, and for their patriotism."
In the aftermath of being pressed on his initial lengthy silence on the Niger ambush, the issue has snowballed into a partisan political fight. The president has since invoked the death of Gen. John Kelly's son to prove that Obama didn't make phone calls to Gold Star families. And after it was reported that when he finally did speak to the grieving widow of Sgt. La David Johnson he said Sgt. Johnson knew what he signed up for, Trump has pushed back by slamming a Democratic congresswoman who heard the call and claiming he has proof she is lying.
[image via screengrab]
—
Follow Justin Baragona on Twitter: @justinbaragona
Have a tip we should know? tips@mediaite.com