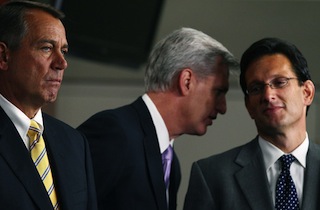 The Obama administration quickly and decisively rejected the House GOP's newest offer to reopen the government and raise the debt ceiling Tuesday morning, just two hours after the GOP agreed on a bill to volley the Senate's rumored compromise.

In a statement released just before the House GOP's press conference, White House spokesperson Amy Brundage wrote:
"The president has said repeatedly that members of Congress don't get to demand ransom for fulfilling their basic responsibilities to pass a budget and pay the nation's bills. Unfortunately, the latest proposal from House Republicans does just that in a partisan attempt to appease a small group of Tea Party Republicans who forced the government shutdown in the first place. Democrats and Republicans in the Senate have been working in a bipartisan, good-faith effort to end the manufactured crises that have already harmed American families and business owners. With only a couple days remaining until the United States exhausts its borrowing authority, it's time for the House to do the same."
The statement stopped short of issuing a veto threat, though it certainly did not rule one out.
Rumors swirled Tuesday morning that the Senate had agreed to the framework of a deal that would fund the government through January 15 and raise the debt ceiling until early February, with only minor concessions to Republicans. The House immediately criticized the agreement as too weak, and crafted its own, retaining the dates but including greater concessions, including a form of the Vitter Amendment.
[h/t WaPo]
[Image via screengrab]
——
>> Follow Evan McMurry (@evanmcmurry) on Twitter
Have a tip we should know? tips@mediaite.com