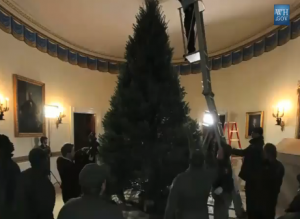 And you thought putting up your tree was a production.
A time lapse video released by the White House shows just how much work went into getting an eighteen-foot tree into position in the White House Blue Room. An effort that seems to have taken four days and involved the work of–could it be–hundreds of people?
Sure enough, the video has been pounced upon by critics. As the U.K. Daily Mail reports:

Almost 100 volunteers from around the U.S. flew into Washington DC on the day after Thanksgiving to help decorate the White House, with its Christmas makeover expected to be seen by more than 100,000 people by the end of the month.

The timing of the White House transformation will no doubt leave Obama critics with sharpened knives. Long-term plan to reduces the U.S. budget deficit remains elusive and unemployment numbers are terrible.
Watch it all unfold here, from the White House:
In case you were curious about the White House tree, we can tell you it was grown in Pennsylvania by a farmer named Christopher Botek who's pretty darned happy to have his Douglas fir in the limelight:
"It's an honor to represent Christmas Tree farmers throughout America as we present this fresh tree from our farm to the First Lady," said Botek, about the White House tree presentation. "The White House deserves the best quality tree, and we believe that a tree grown right here on an American farm can represent the nation well."
Have a tip we should know? tips@mediaite.com