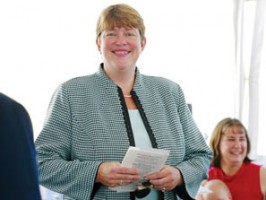 It isn't often that a politician of Sarah Palin's national clout weighs in heavily on an obscure House race, much less does so against her own party's candidate. When Palin endorsed Conservative Party nominee Doug Hoffman over GOP moderate Dede Scozzafava, it was a fair question to ask: "why?" Mainstream media accounts that only touch on Scozzafava's political beliefs are just telling part of the story.
The New York Times, The Washington Post, and CBS News all frame the issue in fairly broad terms. From the Times' Caucus blog:
Mrs. Palin backed Doug Hoffman, the Conservative party nominee, in the traditionally Republican 23d district. The Republican nominee, Assemblywoman Dede Scozzafava, is a moderate who has broken with the G.O.P. by supporting same-sex marriage and abortion rights…

…While Mrs. Palin's endorsement could anger some New York State Republicans, it could also help the former Alaska Governor in appealing to her conservative base as she considers a presidential run in 2012.
Obviously, this is a big part of the story — but why zero in on this moderate in particular? Indeed, according to Google Trends, Scozzafava's name has only taken off as a search term over the course of the past week:

Movement conservatives never loved Scozzafava, but until recently she was the favorite to win the race, according to CBS. Then, on October 16th, a poll showed her trailing Owens, thanks to an unexpectedly strong showing by Hoffman. Here's the play-by-play from there:
The full-throated Scozzafava backlash began in earnest, counterintuitively enough, when Newt Gingrich endorsed her in response: that's the "B" on the Google Trends chart. The conservative web almost immediately snapped back, with Michelle Malkin, who had repeatedly gone after Scozzafava before, leading the charge: "the NRCC is using conservatives' money to back a radical leftist and attack a bona fide, viable conservative candidate for Congress in a safe Republican district. Gingrich has endorsed the radical leftist."
The real kicker, though, came when a blogger for The Weekly Standard, John McCormack, persistently questioned  Scozzafava's conservative credentials. On October 19th, Scozzafava's campaign called the police on McCormack for hounding the candidate, allegedly shouting and making her uncomfortable after a GOP dinner. On October 20th, her campaign leaked an email exchange of theirs to TPM (which even Kos questioned, saying the emails looked reasonable).
This video has blown up across the conservative blogosphere:
On the 21st, when McCormack produced a tape recording of their exchange, the AP concluded he didn't shout or threaten the candidate, and the political burial of Scozzafava commenced at an astonishing pace. At noon yesterday, the National Review called for her withdrawal from the race; later in the afternoon, they cited six other sites that had done the same thing, including RedState, the Washington Times, and Big Government. At 5:28, a perfect time tow work one's way into the next day's news cycle, Sarah Palin posted a Facebook note titled "Support Doug Hoffman," and the rest is history.
A likely result of this hoopla, ironically, is that a Democrat may wind up taking office in what had been a solidly Republican district. To Scozzafava's enemies, who are more ideologues than political operatives, that may not even matter at this point. The success of their concerted effort to take her down — in which, as is increasingly the case, the web played a pivotal role — would be prize enough.
Have a tip we should know? tips@mediaite.com