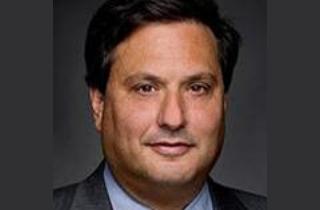 With the reports that President Barack Obama will name Ronald Klain to the position of "Ebola Czar," comes the question: Who is he?

Here are some basic facts to know about the man now responsible for coordinating the bureaucratic response to U.S. Ebola cases:
Formerly Chief of Staff to VPs Biden and Gore
Klain served as the top aide to current Vice President Joe Biden between 2009 and 2011. He worked in the White House a decade earlier when he served as Chief of Staff to then-VP Al Gore from 1995 to 1999.
He Led Al Gore's Legal Operation During the 2000 Ballot Recount
After a brief hiatus from working with Gore in 1999, Klain returned to the VP's staff by being named General Counsel for Gore's Recount Committee during the contentious 2000 presidential elections. That position led to this next fun fact…
Kevin Spacey Played Him in HBO's Recount
Spacey portrayed Klain for his role in the tumultuous 2000 election. Ironically enough, Spacey's character in Outbreak (1995) falls victim to the Ebola virus:
In the movie Outbreak, Ron Klain dies of Ebola. pic.twitter.com/XrLMPI8FNt

— Brian Beutler (@brianbeutler) October 17, 2014
Has No Explicit Medical Experience; Mostly Legal and Democratic Politics
While critics will focus on Klain's lack of epidemiology experience while coordinating a national response to a disease, Obama likely tapped the loyal Democrat for his vast experience in dealing with bureaucracies and politics. Klain will have to face off with Senate Republicans over appropriations, and so his political skills may come in handy.
The White House had previously indicated it did not need an appointed czar — especially since Centers for Disease Control chief Dr. Thomas Frieden is assumed to be the top doc — and so it makes sense that Klain would be chosen for his managerial, rather than medical, skills.
Was Involved in White House Deal with Solyndra
Conservative critics will likely mention Klain's involvement in the White House's 2010 support for failed green energy company Solyndra. The firm went belly-up shortly after the administration handed it a $535 million loan guarantee. Internal emails showed officials were skeptical of the company, but decided to lend it the White House seal of approval, with Klain ultimately writing, "The reality is that if POTUS visited 10 such places over the next 10 months, probably a few will be belly-up by election day 2012."
— —
>> Follow Andrew Kirell (@AndrewKirell) on Twitter
Have a tip we should know? tips@mediaite.com