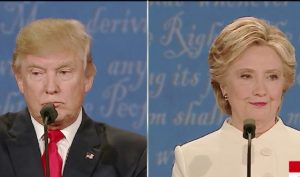 We've been inundated with election news for roughly 18 months now and we're finally approaching the finish line. Political news has been on a yo-yo as of late, what with FBI director James Comey sending two letters to Congress that greatly changed narratives.
With all that said, the real question is this — who will win the presidential election? Will it be the Democratic nominee Hillary Clinton? Or will GOP candidate Donald Trump emerge victorious?
Thankfully, we've been provided with a whole load of polls, both national and for battleground states, so we can go ahead and look at these and see if we can get a good lay of the land ahead of the big day tomorrow.
Nationally, Real Clear Politics shows Clinton up by 2.6 points in an average of all recent polls in a head-to-head race.
Drilling down on the individual polls, all but one released in the last two days show Hillary in the lead, with the one exception being the LA Times/USC tracking poll, which has Trump up by five points. The other surveys have Clinton leading from one to seven points. (The LA Times poll has been widely criticized this election over its methodology that has consistently provided very pro-Trump results.)
Looking at the battleground states, we see extremely close races in many and surprisingly tight ones in a few that weren't previously seen as toss ups. States that were seen as reliably blue for Clinton — Colorado, Michigan, Pennsylvania — still show Hillary in the lead, but within five points when looking at the average of the recent surveys.
Now, those are still all likely to go for the Democrat when looking at recent history and the fact that Clinton still holds a decent sized lead in all three, but Trump still has a chance, which explains why he's recently campaigned in all three. Meanwhile, looking at other toss-ups, states that President Obama carried which will likely turn red are Iowa and Ohio.
According to RCP, Trump holds a three-point lead in Iowa and is up 3.5 points in Ohio. Another state Obama carried twice, Nevada, shows Trump with a narrow lead per the polls. However, early voting numbers appear to show Clinton strongly up.
A state which Obama narrowly won twice, Florida, looks to be once again be a state where it will be a nail-biter. Polls show a virtual dead heat and early voting numbers can be seen as strong for either party, depending on one's viewpoint. In North Carolina, a state Obama won in 2008 but lost in 2012, polls are nearly as close as in Florida, with Trump showing a razor tight lead of 1.4 points, but early voting numbers favor Democrats right now.
A state that had become a toss-up recently due to tightening polls, New Hampshire, saw a survey released today that shows Clinton up by 11 points. Obama carried the state by decent-sized margins in 2008 and 2012.
A couple of previously reliably red states, Georgia and Arizona, have suddenly become battlegrounds this cycle. While Trump is up in both states — 4.6 points in Georgia and four points in Arizona — a potential blue wave could bring these in Clinton's corner.
As for election forecasters, the most notable ones all have Clinton as the favorite, but they are showing some very different margins of victory. The most bullish for Trump, Nate Silver's FiveThirtyEight, currently gives Hillary a 67.9% chance of victory and is predicting she'll grab about 296 electoral votes. Meanwhile, Huffington Post's forecast only has Trump with a 1.6% chance of winning and shows Clinton with 325 electoral votes This difference in predictions led to a Twitter war between Silver and HuffPost's Ryan Grim recently.
Another forecaster, the New York Times' Upshot, currently shows Clinton with an 84% chance of victory with the most likely outcome being 322 electoral votes.
The numbers definitely appear to favor Hillary Clinton, but polls do show that there is a path for Trump. Guess we'll only really know on Election Day if the polls are correct or if they underestimated Trump's support.
[image via screengrab]
–
Follow Justin Baragona on Twitter: @justinbaragona
Have a tip we should know? tips@mediaite.com