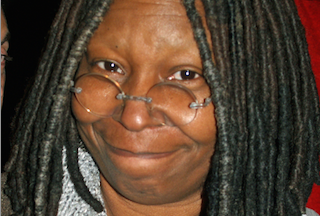 Whoopi Goldberg, perhaps looking for a journalistic outlet that's a little different from The View, has just signed on as The Denver Post's newest marijuana columnist. Her first column, dedicated to her vape pen, appeared Thursday morning on The Cannabist, which serves as the paper's home for coverage of everything related to Colorado's recreational marijuana legalization.
In the column, Goldberg introduces readers to "Sippy," the pen-sized vaporizer that she says changed her life. "No, I'm not exaggerating," she writes. "In fact, her name is Sippy. Yes, she's a she. And yes, I named her Sippy because I take tiny, little sips — sassy sips, even — from her. And with each sip comes relief — from pressure, pain, stress, discomfort."
Goldberg goes on to explain that it was daughter who first introduced her to the virtues of the vaporizer as a healthier smoking device about two years ago. She describes the pen — "light, compact and portable" and the vapor — "inoffensive and subtle." She evens explains to the reader what makes the high different from a more traditional method. "It feels like a gentle, warm breeze at the beach," she writes. "It's like someone undoing a vice grip, very slowly. It's not overpowering — and I'm certainly not looking for that high high. I'm looking for relief."
In a press release, The Cannabist's editor Ricardo Baca explained that the idea for the column, which will appear about once every two months on the site, came after he appeared on The View in January.
"We instantly connected, and her curiosity and desire to discuss the issues surrounding America's ever-changing marijuana laws immediately reminded me of my colleagues back in Denver. I also could tell she had been reading the Cannabist," Baca said. "As expected, Whoopi's column provides a direct and personal perspective on marijuana use in this very modern era. We're grateful that she is willing to add her voice to this conversation."
You can watch Baca's appearance on The View below, via ABC:
[h/t Poynter]
[photo via Wikimedia Commons]
— —
>> Follow Matt Wilstein (@TheMattWilstein) on Twitter
Have a tip we should know? tips@mediaite.com