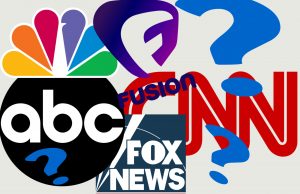 Presidential debates are always fun but during this year's primaries, we saw just how outrageous they can really get. When there are candidates standing on the stage and proclaiming that they have really big, ahem, hands, skilled analysts and on-air talent are required to keep the post-debate discussion from devolving. Panelists who appear on major cable networks after a debate can get pretty heated, so unless they want a completely inaudible meltdown on their hands, producers need to be sure that their hosts can handle one of the most politically charged events of an election season. Who has been trusted/tasked with it this year?
On ABC, George Stephanopoulos will lead special coverage from ABC News Election Headquarters in New York from 9:00-11:00 p.m. EST. Beyond that, he'll be joined by these correspondents from New York and Washington, D.C.: David Muir, Martha Raddatz, Jonathan Karl, Cecilia Vega, Tom Llamas, Byron Pitts, Cokie Roberts and Matthew Dowd.
In fact, Dowd is pulling double duty. He and LZ Granderson will start off ABC News Digital's evening coverage with the original series "Strait Talk" before Granderson, Dan Harris, and Amna Nawaz provide more digital anchoring. That will all be streaming not only on ABCNews.com, but on Facebook Live, as well, where viewers' comments will be incorporated into the show.
At Fox News, Megyn Kelly and Bret Baier will be doing the primetime coverage from 9:00 p.m. EST to 11:00. That coverage will appear on FNC itself as well as FOX News Radio, FOX News Mobile, and FOXNews.com, where the debate will livestream for free without authentication. Brit Hume, Dana Perino, Juan Williams, and Tucker Carlson will be joining them for the post-debate wrap-up and all of FNC's programming for the day, including The O'Reilly Factor and Your World With Neil Cavuto, will be broadcasting from the debate location at Hofstra University.
CNN, which has been at Hofstra since Saturday, will air special coverage of Debate Night in America at 7:00 p.m. EST and will pick up again after the 90-minute debate at 10:30. The primetime coverage will be hosted from inside the debate's spin room by Dana Bash, Wolf Blitzer, Anderson Cooper, Jake Tapper, and Erin Burnett. 
Millennial-focused Fusion is joining in on the coverage, too. They're aiming to answer the questions, "Will the candidates address the issues that young voters care about including criminal justice, student debt, climate change, gun violence, and discrimination?" To do that, they're bringing in Nando Vila, Miriti Murungi, Nelufar Hedayat, Katie Halper, along with Jorge Ramos. That coverage will begin at 8:50 p.m. EST on Twitter and Facebook and pick up on FUSION Network at 9:00. Check your local listings.
The primetime coverage at CBS News will be led by Scott Pelley and John Dickerson and will feature Nancy Cordes, Major Garrett, and Bob Schieffer. That is scheduled to go from 9:00 p.m. EST to 11:00. Elaine Quijano, Josh Elliott, Vladimir Duthiers, and Reena Ninan will lead CBSN'S live, streaming coverage with contributors Jamelle Bouie, Peggy Noonan, Leslie Sanchez, and Lynda Tran. Pelley's CBS Evening News will be broadcasting from Hofstra, too. Further, CBS made the following announcement last week regarding their new partnership with Instagram:
As part of the partnership, a collection of Instagram Stories created by CBSN anchors and CBS News correspondents and contributors, including Nancy Cordes, Vladimir Duthiers, Major Garrett, Reena Ninan, Will Rahn, and Bob Schieffer, will be integrated into CBSN's anchored coverage before and after each debate, along with stories from political experts and voters across the country. CBSN will also curate questions from voters to inform coverage of the debates. CBSN will use the real-time audience engagement platform Connect Live from social technology company Telescope to deliver Instagram Stories live on air.
NBC News is gearing up for a big night, too, considering it's their own Lester Holt who will be moderating the debate. For coverage, they're bringing in Savannah Guthrie and Chuck Todd from 9:00 p.m. EST until 11:00 on the NBC cable network. Tom Brokaw, who has covered every presidential election since 1968, will be joining them. On MSNBC, the primetime coverage is beginning at 7:00 p.m. and will be hosted by Rachel Maddow and Brian Williams live from Election Headquarters in New York, with Chris Matthews live from Hofstra.
For good measure, here are all of the anchors and correspondents NBC News and MSNBC have out at Hofstra: Peter Alexander, Kasie Hunt, Hallie Jackson, Chris Jansing, Steve Kornacki, Craig Melvin, Andrea Mitchell, Kelly O'Donnell, Thomas Roberts, Stephanie Ruhle, Kate Snow, Katy Tur, and Kristen Welker.
Obviously, you have plenty of options for your pre-debate coverage, debate coverage, and post-debate coverage!
[composite image via Sam Reisman]
Have a tip we should know? tips@mediaite.com