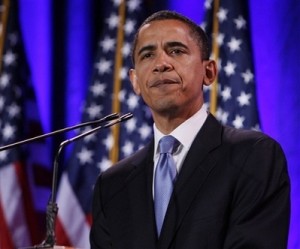 President Barack Obama was given a written report entitled "Key Homeland Threats" just three days before Christmas, warning of possible impending terrorist attacks in the United States, according to Newsweek.
As more information is released about what the government knew before the attempted Christmas attack on Flight 253, it's all very reminiscent of George W. Bush's infamous pre-9/11 "Bin Laden Determined To Strike in US" report and could spell a wave of bad press for Obama as the news cycle kicks back into gear after the holidays.
While Al-Qaeda outfits in Yemen were reportedly absent from the report — giving no indication of what was to come with Umar Farouk Abdulmutallab's attempted underwear bomb — there was special attention being paid to the holiday season and attacks on U.S. soil. According to Newsweek:
The senior official said that beginning in early December, based on reports coming in from intelligence agencies, policy-makers had begun tracking a stream of information which alluded to a possible holiday-period plot against the US orchestrated from somewhere in Pakistan. However, the official said, this reporting later turned out to be "garbled" and it was determined that the threat probably was a washout. The official denied that the White House received any report, representing the concensus of US intelligence agencies, warning that a Holiday-period plot originating in Yemen and targeting the US homeland could be in the works.
But more importantly:
…it had become clear to the President and top advisors that before Christmas, the US government was in posession of "bits and pieces" of information, which, if they had been properly knitted together, "could have…allowed us to disrupt the attack or certainly to know much more about the alleged attacker in such a way as to ensure that he was on, as the President suggested in his statement, a no-fly list."
Government knowledge before an attack, successful or not, will always be a source of speculation and 20/20 hindsight, media coverage of homeland security woes are a fertile source of criticism from opponents and, as we learned from the Bush administration's handling of those pre-9/11 documents, will be the source of much second-guessing.
As Newsweek writes, "aides are concerned that Obama will somehow be unfairly accused of dropping the ball on the fight against terrorist in Yemen," despite the fact that "the evidence suggests Obama, as early as last summer, ordered a significant increase in US intelligence activity." And yet, for much of the media, the mere existence of counter terrorism intel — especially focused on the holiday season — will be enough for strong suggestions of governmental mishandling.
EXCLUSIVE: Obama Got Pre-Christmas Intelligence Briefing About Terror Threats to "Homeland" [Newsweek]
Have a tip we should know? tips@mediaite.com