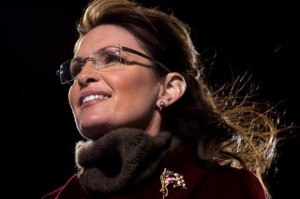 It's the weekend, which means it's time to separate the chumps from the champs in Mediaite's new "Winners and Losers" — our scorecard of who rocked and who flopped in the week's headlines.
This week's contenders include: President Bush, adding "motivational speaker" to his resume, Sarah Palin posting an online resume, and Jay Leno, who might be wise to start updating his resume. Our picks below:
The Bronze Loser: Jay Leno
NBC was fine to let the talk show host tank at 10 pm (The Jay Leno Show now trails cable shows we've never heard of). Afterall, the un-funny and un-watched chat format is still a better deal than producing pricey scripted programming. But now local stations are paying the price for the network's cheapo strategy! The LA Times reports Leno's crap ratings are dragging down NBC affiliates who rely on that big network "lead-in" to keep an audience. If things don't turn around, Leno's late-night legacy could be eclipsed by the dreaded "Leno Effect."
The Bronze Winner: The New York Mets
Despite having a new $850 million dollar ballpark and the second highest payroll in baseball, the Mets managed to have a horrifically bad season. (Meanwhile, their two biggest rivals are a game away from facing off in the World Series.) But it turns out the Mets made at least one smart investment this year — with swindler Bernie Madoff! Yes, it looks like at least two of the team's accounts actually made money atop the pyramid scheme — 48 million bucks to be exact! If they aren't sued for the full amount by actual Madoff victims, they might consider investing in players who don't suck.
The Silver Loser: Carrie Prejean
After being dumped for "contract violations," the former Miss California turned anti-gay activist is suing the organizers of the Miss USA pageant, alleging they revealed "private facts" about her (which the pageant is taking to mean her boob job). But the pageant production company has turned around and demanded their boobs back, or at least the $5,200 they say they loaned her for breast augmentation surgery. Maybe Carrie legitimately thought her implants were still "private facts" after her bikini strut on national television. Maybe she still thought so after her pre-surgery topless photos surfaced. But after this counter-suit, it's safe to say the jig's up.
The Silver Winner: Jon Gosselin

Yes, things still suck for Jon Gosselin. TLC is suing the former reality dad blind after he put the breaks on their gravy train John and Kate Plus 8. Courts today forced him to repay $180,000 he took from his and his future ex-wife's joint bank account. And a former babysitter now claims he's been hacking into mom-of-8 Kate's emails. But he still came out a winner this week, because thanks to Richard Heene, he's no longer the most hated dad in America!
The Gold Loser: Sarah Palin
The former Alaskan governor is certainly a prolific Internet presence, but she sure isn't the most savvy. She proved her lack of social media prowess this week, joining LinkedIn (the boring professional's answer to Facebook) under the misnomer "governorsarahpalin." And apparently she's interested in "job inquiries" and "business deals." What? (In her defense, she was shrewd enough to leave 4 of the 5 colleges she attended off her resume.) If internet persona is any indication a future online campaign strategy, best of luck in 2012!
The Gold Winner: George W. Bush
As part of his post-presidential legacy project, W. is hitting the speaking circuit later this month. No, not NATO or the UN, but right where he belongs: at $19 motivational seminars for regular folks! The "Get Motivated" events, described as a "motivational mega-show that packs more inspirational power than a stick of dynamite," are the perfect venue for the former motivator-in chief. After all, he successfully motivated an entire generation of voters away from the Republican Party.
Have a tip we should know? tips@mediaite.com