Wishing Christmas Was Today Throughout The Years: The Different Versions Of The SNL Holiday Hit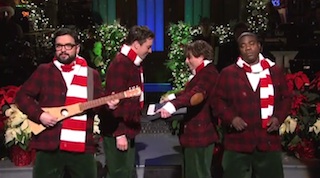 This Saturday, as with any time an old star comes back to host, Saturday Night Live looked to its past. They recreated a couple of host Jimmy Fallon's classic sketches and, since the season was right, they even brought back Horatio Sanz, Tracy Morgan, and Chris Kattan to perform "I Wish It Was Christmas Today," the holiday hit they first did back in 2000. The goofy tune is actually one of the few Christmas songs not written 50 years ago to have had much staying power so its unsurprising that Fallon and Sanz have performed it a number of times in the past decade. We've collected all the different versions below.
The first version, from December of 2000, is the simplest and sets the ridiculous tone perfectly (Why's Tracy Morgan there? Why not?).
RELATED: Great Moments in Caroling: Jimmy Fallon and Maya Rudolph Sing 'Baby, It's Cold Outside' As The Chipmunks
One year later, the quartet reunited to play the song again. Listen to how loudly the audience roars when it becomes clear what song is actually being played. Also, look at Fallon's hair. Yikes.
We skip forward now to 2009, the year Fallon began to host Late Night. The show has become famous for its musical performances as well as its callbacks to the host's SNL past so it shouldn't have been any surprise that Sanz would stop by to perform the song. However, things got even better a verse in when Julian Casablancas joined in to rock things up.
Casablancas actually released a single version of the song that year. It's pretty great.
And then, finally, we get to this past Saturday when the original four got back together. Horatio Sanz is skinny, Jimmy Fallon has a good haircut, and Christmas was good again.
Fun stuff.
However, to wrap things up, here's a bonus SNL Christmas treat. As great as "I Wish It Was Christmas Today" is, it might not be the best recent holiday tune the show has done. In the humble opinion of this writer, that title would befall 2005's "Christmas for the Jews." Written by the brilliant Robert Smigel, the song is a pitch perfect parody of Phil Spector classics and its even sung by Darlene Love (who, of course, already has one Christmas classic under her belt). As funny as Chris Kattan's goofy head nod is, claymation wins every time. Check it out!
Have a tip we should know? tips@mediaite.com