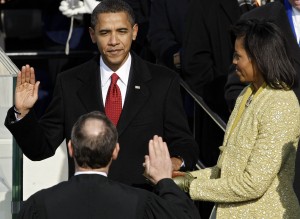 It has been a year. Has it ever. Likely no one knows that better than President Obama who one imagines is having a pretty crappy day today. Who could have predicted amidst January 20, 2009's euphoria that one year later we would be waking up to news that out of nowhere a former nude Cosmo model, pick-up driving Republican had snagged Ted Kennedy's Senate seat and derailed Obama's agenda. Or that his approval ratings would have plummeted so far. Or that, well a lot of things. But enough of that, at least for a moment. In a nod to nostalgia here's a look back at how the nation covered the day one year ago. The headlines are mind-boggling happy. Plus: after the jump Jon Stewart offers his own retrospective (Obama is "not a magic negro.").
The Newsstand: Click the picture below for a slideshow of the day's covers. The NYT sold out of theirs within a few hours.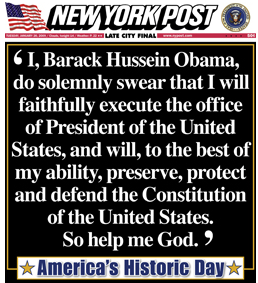 The Cablers: 'MSNBC's Highlights Of Inauguration Day': Probably it will be a while (if ever) before we see anyone strike this sort of tone again: (Short version: people were happy and hopeful, Aretha Franklin got a lot of attention for her hat.)


>>>NEXT: Jon Stewart on what we have learned during Obama's first year.
Have a tip we should know? tips@mediaite.com