Write Your Own Caption: CBS' Katie Couric Helps Free Barry Diller's Maserati From Snow (UPDATED)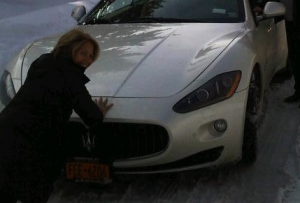 Sigh. Clearly, some of us move in loftier circles than others. Case in point: CBS News anchor Katie Couric, who took to Twitter this morning to reveal her moment of good citizenship involving a fellow New Yorker whose car had gotten stuck in the snow. Katie helped the poor guy get moving so he wouldn't be late to work or whatever! Yay, Katie!
Except, it wasn't Joe Sixpack who got stuck, and it was anything but an ordinary ride. Here's Couric's tweet:

Only in NY: helping Barry Diller push his Maserati out of the snow in Central Park.
A few things must be said about this photo. First, it looks suspiciously like Couric is posing in front of the car, not pushing. Second, Diller is clearly not involved in any way in the Maserati-freeing. And third, is there anything more unfortunate than an ugly front license plate marring the front end of a Maserati? (Not like I have this problem, mind you, but still…)
Okay, I'm ready to let all of this go now. Thanks for listening.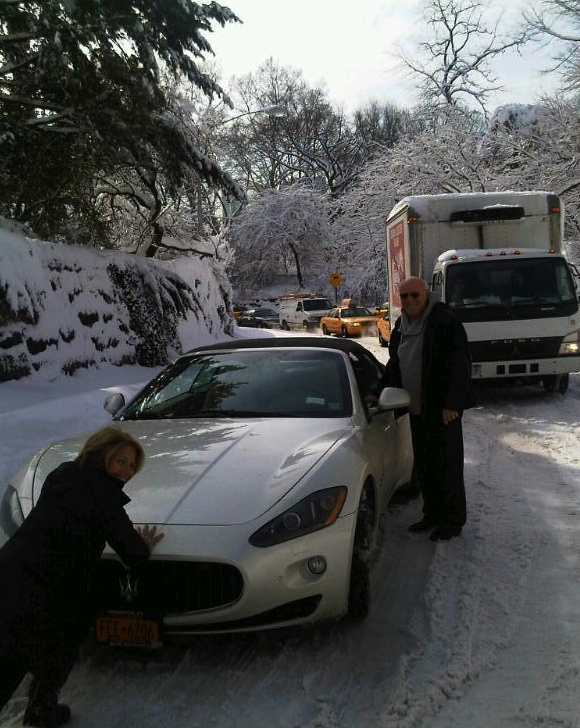 UPDATE: While the snownario captured above has the look of a staged photo, a CBS rep tells us it happened exactly as Couric tweeted it: the CBS anchor was driving to work and spotted the guy stuck in the park in the Maserati (which, in case you're not up on your cars, is known for many, many things, but NOT as your first choice for post-snowstorm driving). Couric and friend had the same thought: hmm, that wasn't a great idea, now was it? As they laughed, they noticed the driver as Diller.
Leading to this priceless moment: a stranded Diller sees a car pull up, the window roll down, and Katie Couric ask "need a lift?"
The anchor–as the photo shows–did try to move the Maserati (who wouldn't want to put their hands on that car?) but it wouldn't budge. Couric–ever the good sport–gave Diller a lift.
Have a tip we should know? tips@mediaite.com