Young Man Discharged From Pre-Marine Program for Assaulting Black Woman at Trump Rally
At a Donald Trump rally in Louisville, Kentucky, two days ago, the situation quickly devolved into yelling and harassment. That isn't altogether uncommon for Trump's rallies, which are known to be raucous and where reporters have been manhandled and practically threatened, and protesters (and those thought to be protesters even if they weren't) have been similarly threatened and grilled.
During the rally in Louisville, a young black woman who had been protesting was pushed, shoved, and screamed at by rally-goers as she was escorted from the rally. Here is a Facebook video from user Paul Bibbs:
I'm watching this shit right now on the news 2016 in Louisville KY and I'm furious !!!!look at the way they treated this…

Posted by Paul Bibbs on Tuesday, March 1, 2016
In the video, you can see Shiya Nwanguma take out her phone and begin recording. Here is the footage she took, courtesy of Facebook user Jared Suggs:
Clearly, this incident made waves on Facebook. In fact, even those involved in the pushing and yelling took to the social media site to share the event. Joseph Pryor, one of the young men involved, made a screengrab of himself screaming at Nwanguma his header picture on the site, where he wrote that he was a "future Marine."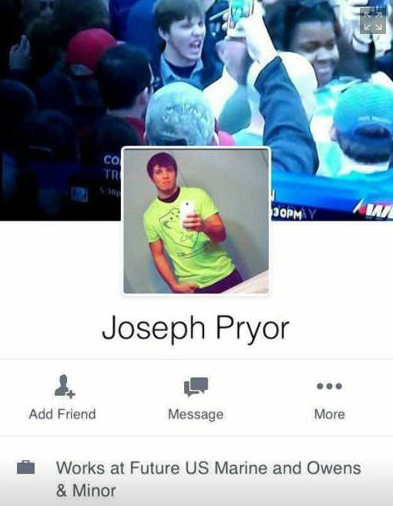 Not long after that, the United States Marine Corps made it public that Pryor had been discharged from their Delayed Entry Program, according to The Washington Times. They then broke the Facebook-centric coverage trend, taking to Twitter to respond to public inquiry:
@cornax The USMC doesn't tolerate disrespect toward any group & this individual's actions doesn't represent actions expected of Marines.

— USMC Recruiting (@USMarineCorps) March 3, 2016
Wave 3 News reports that the recruiting station in Louisville went with the old-fashioned method if disseminating information, putting out a press release that said the following:
Joseph Pryor demonstrated poor judgment in his use of social media that associates him with a racially charged altercation at a political rally. Hatred toward any group of individuals is not tolerated in the Marine Corps and he is being discharged from our delayed entry program effective yesterday.
[image via screengrab]
For more from Lindsey, follow her on Twitter.
Have a tip we should know? tips@mediaite.com