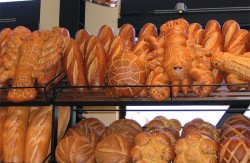 You can start eating regular bread and pasta now, people. New research has shown that, as we suspected, if you don't have celiac you really don't need to be following a gluten-free diet.
The study shows that over a five year period, while the number of people in the country with celiac has remained the same (0.7 percent of Americans in 2009–10, and 0.58 percent in 2013–14) the number of people following gluten-free diets has increased (0.5 percent of Americans in 2009–10 vs. 1.7 percent in 2013–14). The findings indicate that the reasons people follow the diet can be anything from "public perception that it may be healthier, the growing availability of gluten-free products, and a self-diagnosis of gluten sensitivity by some individuals."
If we've learned anything from frantic late-night WebMD searches, it's that self-diagnosis is good for almost nothing except for inducing massive panic.
Giada De Laurentiis, queen of all things pasta said it best back in 2014:
I just think, don't eat white pasta every day. And if you really really have a problem with gluten, don't eat it, but all the other stuff that they're substituting for it isn't any better for you. The first ingredient in many gluten free flours is corn starch. That ain't good either. If we could just think about diversifying our diets, like we do with our portfolios, we'd all be a lot happier and our bodies might feel better too.
It doesn't matter much. The gluten-free trend is great for business, so expect companies, including the Girl Scouts to keep promoting their offerings. At least for now, it's here to stay.
[H/T Grub Street]
Follow Dana Eisenberg on Twitter.
Have a tip we should know? [email protected]