'You're Supporting a Bigot!': CNN Guests Go Nuts on Each Other Over Trump's Black Outreach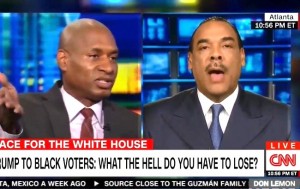 Sometimes in cable news, there are small blessings. The fact that Charles Blow and Bruce LeVell weren't in the same studio when they filmed their panel last night is one of those blessings because quite simply, that could have gotten very messy.
As Don Lemon tried to lead them through a quick exchange on Donald Trump and his associated image, these two fought so hard that they pushed the segment four minutes into what was supposed to be a commercial break. LeVell was there representing the National Diversity Coalition for Trump, so you can already imagine how it went.
Much of the exchange between the two guests was delivered in a low voice, the kind that is scarily calm because there is anger just simmering under the surface. Unlike so many notable CNN battles of late, there was no yelling. There were just smooth insults, some fast talking, and the occasional raised voice.
Here are some of the best quips from the entire face-off:
Blow, to himself, on LeVell in general:
Who is this person? Why is he on TV?
Blow, after he called Trump a bigot and then said that LeVell, in turn, supported bigotry:
Yes, I said that to you.
LeVell, after Blow called Trump a bigot:
I'm sorry you're so misinformed.
Finally, LeVell attempted to claim that Hillary Clinton's campaign has worked to make Trump seem like something he isn't. Presumably, he meant Clinton's been trying to paint Trump as a bigot. Blow wasn't having that. He said, "I'm not part of the Clinton campaign. I'm a black man in America and I know a bigot when I see a bigot and you are supporting a bigot and that makes you part of the bigotry that's Donald Trump."
LeVell responded, "I know someone who doesn't tell the truth on national TV when I see it, sir."
Eventually, Lemon had to stop them both and tell them that they'd gone an extra four minutes. Watch the whole thing above.
[image via screengrab]
Have a tip we should know? [email protected]