'Yummyyyy': High School Girls Rate Mitt Romney's Sons (And Rick Santorum?) At Iowa Event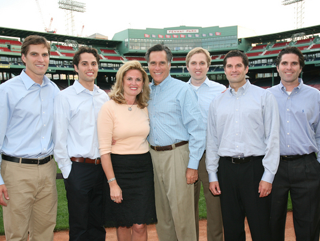 Who knew? Apparently Mitt Romney's secret weapon to win the Iowa teenage vote may be his sons– Josh, Matt, Craig, and Tagg. During an event at Valley High School in Iowa today, Yahoo! News' Chris Moody interviewed young ladies who told him they came to hear Rep. Ron Paul speak, but stayed for the fetching Romney boys, letting their eyes also wander, rather surprisingly, to… Rick Santorum?
RELATED: Jon Huntsman's Daughters Want To Have A Pizza Party With Mitt Romney's Son
Moody sat with some of the high school's female athletes during an event in which several Republican hopefuls too the state at the high school, and more or less redacted their reactions to the speakers verbatim. It turns out that politically aware teen girls are just as boy crazy as every other teen girl:
"Is Ron Paul going to be here?" asked Shannon, a softball player.

"Yup," another girl replied.

"Yesssssssss," Shannon said.

That, however, was before Mitt Romney's sons–Josh, Matt, Craig, and Tagg–took the stage. The young women gasped. (Ron who?)

"Yummyyyy," Kylie, another softball player, muttered under her breath.

"What's the name of the one in the checkered shirt?" asked Shannon, a basketball player, pointing to Romney's son Craig. "He's the hottest." […]

"Is that Ron!?" one of the girls blurted out, snapping out of her Romney Boy trance. She strained her neck to see past the basketball hoops.

"No, it's just Rick," another one said, disappointed after spotting Rick Santorum.

"Rick who?" one of the girls asks as Santorum makes his way across the floor.

"Wait a minute," Ally, a basketball player said, looking closer. "He's kind of hot."
Moody notes that the love for the young Romneys was near-universal, but Santorum's sexiness was more of a point of contention, particularly because his sweater-vest "makes him look a little chunky."
While the girls self-described as Rep. Ron Paul fans, they didn't spare him the judgment that the Romneys and Santorum got. "He's got his glasses on… Like a BOSS," Moody notes one girl reacted. Another expressed dismay at the possibility that Rep. Paul could die at any minute.
The full story is a must-read as far as campaign candy reports is concerned, and leaves many questions unanswered. Were the high school boys equally receptive to Rep. Michele Bachmann? Would Jon Huntsman have fared better putting his girls on the campaign trail in Iowa? It's too late to know, but it's worth noting that the girls, while all about the Romney boys, settled on their candidate not based on looks, but based on… age? They don't really clarify, but they don't seem to love Ron Paul because he is sexy.
Have a tip we should know? tips@mediaite.com