'Zip it Don': Kristen Bell Blasts Trump for Dragging Frozen into Jewish Star Controversy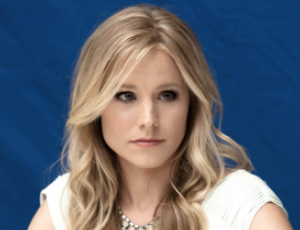 One of the leading stars from Disney's Frozen is thoroughly unimpressed that Donald Trump decided to invoke her film in order to defend himself from his latest controversy.
Kristen Bell voiced deuteragonist Princess Anna in the animated mega-hit, and she's saying that the mogul should really get his priorities in order:
Zip it Don & get ur head outta ur ass. We've more important things 2 think abt today #AltonSterling #PhilandoCastile https://t.co/H2irnurqIe

— Kristen Bell (@IMKristenBell) July 7, 2016
Bell's tweet made reference to Philando Castile and Alton Sterling, the two African American men who's deaths became flashpoints this week for discussions on racism and police brutality. Their deaths were the center of a #BlackLivesMatter protest in Dallas last night before it was interrupted by a gunman who targeted the supervising police officers and created mass panic.
Bell's tweet comes as a response to Trump's effort to deflect accusations of anti-Semetism for his Star of David Hillary Clinton tweet. The image Trump used originated from a Neo-Nazi website, and not only has the mogul defended it––after it was already taken down––but he tried to justify it by comparing it to the badge of a six-point star that appears on a Frozen coloring book.
When Bell was asked if her tweet meant that "all of twitter has to shut up and talk about shootings?", she responded in the following manner:
Nope, just politicians who claim, and have chosen a career, to care about the people's welfare. https://t.co/BBFDnxGjxj

— Kristen Bell (@IMKristenBell) July 7, 2016
I have compassion for the fear the officers feel. I also think they often shoot too quickly. https://t.co/dEqc97K9w3

— Kristen Bell (@IMKristenBell) July 7, 2016
[Image via screengrab]
— —
>> Follow Ken Meyer (@KenMeyer91) on Twitter
Have a tip we should know? tips@mediaite.com