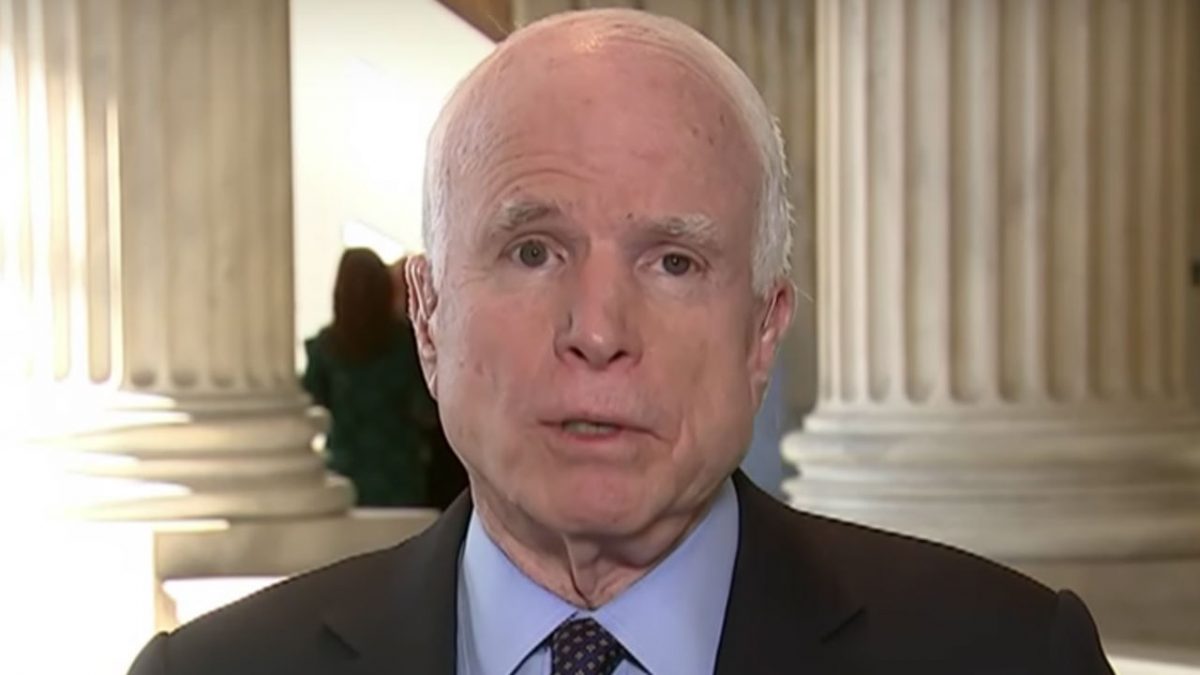 Sen. John McCain has passed away on Saturday shortly after ending his treatment for an aggressive form of brain cancer. He was 81.
His family issued a statement earlier this week announcing his decision to forgo further treatment.
"God bless everyone who has cared for my husband along this journey," his wife Cindy wrote in the tweet.
The senator's office announced his death in Arizona on Saturday, writing simply, "Senator John Sidney McCain III died at 4:28 pm on August 25, 2018. With the Senator when he passed were his wife Cindy and their family. At his death, he had served the United States of America faithfully for sixty years."
In his home state of Arizona, McCain was remembered as a "political giant."
As per AZ Central:
John McCain, who endured more than five years as a prisoner of war in Vietnam before becoming the 2008 Republican presidential nominee and serving Arizona for more than 30 years on Capitol Hill, died Saturday at age 81.

Destined to be remembered among the political giants of Arizona history, the six-term U.S. senator disclosed in July 2017 that he had been diagnosed with a deadly form of brain cancer called glioblastoma.

McCain was a two-time presidential candidate, losing the GOP nomination in 2000 to then-Texas Gov. George W. Bush and the general election in 2008 to then-Sen. Barack Obama.
Daughter Meghan McCain remembered her dad as a "hero of the republic and to his little girl."
McCain was a formidable foe in Washington, saying in 2012. "The demand for our leadership in the world has never been greater. People don't want less of America — they want more."
Yet, he was remembered fondly by politicians from both sides of the aisle.
Both Republican and Democratic lawmakers issued statements mourning the passage of their long-time colleague and friend.
Former president Barack Obama likewise issued a statement applauding McCain's courage.
"Few of us have been tested the way John once was, or required to show the kind of courage that he did," Obama wrote. "But all of us can aspire to the courage to put the greater good above our own. At John's best, he showed us what that means. And for that, we are all in his debt. Michelle and I send our most heartfelt condolences to Cindy and their family."
President Donald Trump, who had a contentious relationship with McCain,  issued a tweet sending his "thoughts and prayers."
In May, it was reported McCain worked with his family to plan his funeral to be held at the National Cathedral in Washington. The details of arrangements have not yet been announced.
[image via screengrab]
Have a tip we should know? tips@mediaite.com