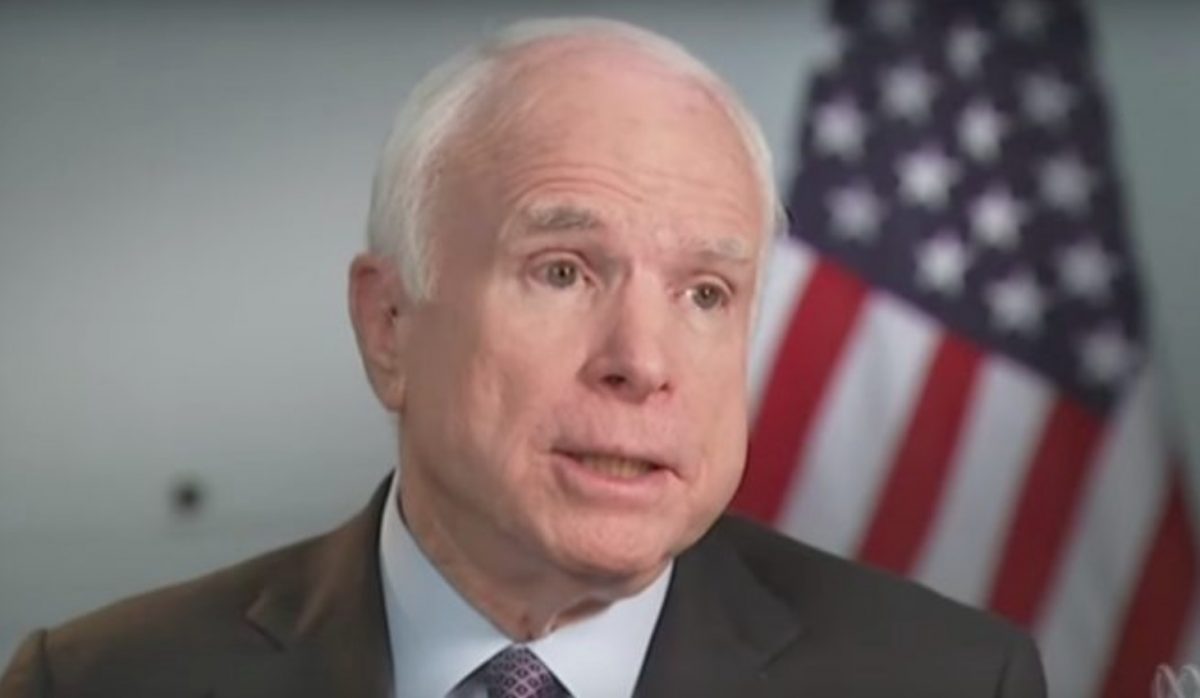 Sen. John McCain died at the age of 81 on Saturday, after battling brain cancer for more than a year. The Republican lawmaker, known as the "maverick" of the Senate, died at his ranch in Arizona.
Republican and Democratic Senators alike took to Twitter to issue statements in remembrance of McCain, who served in Vietnam, where he was captured and imprisoned for five years, before serving in the Senate for more than three decades and running for president as the Republican nominee in 2008.
Here's a collection of their responses, starting with Sen. Lindsey Graham, McCain's close friend:
I will need some time to absorb this, but I want Cindy —and the entire McCain family — to know they are in my prayers.

— Lindsey Graham (@LindseyGrahamSC) August 26, 2018
Words cannot express the sorrow I feel at John McCain's passing. The world has lost a hero and a statesman. Cindy and the McCain family have lost a loving husband and father. I have lost a wonderful friend.

— Jeff Flake (@JeffFlake) August 26, 2018
John McCain is an American hero. It was truly an honor to work under his Chairmanship at Senate Armed Services Committee, and to get to know him over my five years in the Senate. My prayers are with Cindy, Meghan, and the entire McCain family.

— Tim Scott (@SenatorTimScott) August 26, 2018
We will never forget the unparalleled courage, heart and service of John McCain. My thoughts are with his family as they mourn this great loss, but also as they celebrate his incredible life. It was a privilege to serve beside John in the Senate, and he will be so greatly missed.

— Kirsten Gillibrand (@SenGillibrand) August 26, 2018
John McCain loved America and sacrificed his freedom and his health to defend it and his fellow servicemembers. Laura and I mourn his passing and our hearts go out to his family for their loss.

— U.S. Senator Bill Cassidy, M.D. (@SenBillCassidy) August 26, 2018
The Senate, the United States, and the world are lesser places without John McCain.

Nothing will overcome the loss of Senator McCain, but so that generations remember him I will be introducing a resolution to rename the Russell building after him.

— Chuck Schumer (@SenSchumer) August 26, 2018
We just lost a statesman and a hero when there are so few around. His was a life of service, and a life well lived. May his memory be a blessing.

— Brian Schatz (@brianschatz) August 26, 2018
John McCain was my friend and one of my heroes. He devoted his life to duty, honor and country. He shall always be a role model for me.

— Senator Bill Nelson (@SenBillNelson) August 26, 2018
I have rarely met someone who cared so deeply, sacrificed so much, and represented the best of the United States of America like John McCain.

— Senator Chris Coons (@ChrisCoons) August 26, 2018
Today, the nation mourns the loss of a great American patriot. My full statement on the passing of @SenJohnMcCain pic.twitter.com/yKDgnPw6vm

— Leader McConnell (@SenateMajLdr) August 26, 2018
John McCain so warmly welcomed me to the Senate in '13. Our later private meeting in his office remains 1 of my most inspiring moments as a Senator.

Death may end a life but it can never end a love. John Loved America: his impact will forever endure. RIP https://t.co/c340f06GzB

— Cory Booker (@CoryBooker) August 26, 2018
No words to describe the loss of Senator John McCain, a man I've had the honor of serving with in the U.S. Senate. Our country has lost an American war hero and statesman. Lynne and I are praying for Cindy and the entire McCain family.

— Dean Heller (@SenDeanHeller) August 26, 2018
HATCH on the passing of his dear friend and colleague John McCain:

"Over a lifetime of selfless service, John came to embody the very pinnacle of American virtue..

The Senate—indeed, the nation—will miss the steady, guiding presence of a principled statesman." #utpol pic.twitter.com/in4WAnyoaU

— Senator Hatch Office (@senorrinhatch) August 26, 2018
My heart is heavy today as I join countless Americans across our country in mourning the loss of one of our nation's greatest leaders and statesmen, one of my personal heroes, @SenJohnMcCain. https://t.co/v4QSWHlLb2

— Tammy Duckworth (@SenDuckworth) August 26, 2018
Throughout his life – as a Naval Aviator, a Prisoner of War who endured years of torture, a Congressman, and a six-term Senator – John repeatedly showed how anything is possible when armed with determination, a deep sense of patriotism and an unbreakable will.

— Tammy Duckworth (@SenDuckworth) August 26, 2018
John McCain was a great American, a terrific Senator, and a wonderful friend and mentor who taught me so much. May God be with this hero who has earned his rest.

— Sen. Susan Collins (@SenatorCollins) August 26, 2018
The passing of Sen. McCain is a loss for our country that cannot be captured in any statement or words; he personified service to our country and stood for the values we hold dear. Our country is overwhelmed with grief at his loss.

— Joni Ernst (@SenJoniErnst) August 26, 2018
I am deeply saddened to learn of John McCain's passing. He led a courageous & remarkable life, made tremendous sacrifices, & carried a deep love for our nation. He was a true American hero & it was an honor to serve w/ him in the Senate. My thoughts & prayers are with his family.

— Senator Jeff Merkley (@SenJeffMerkley) August 26, 2018
Tonight we lost an American hero who put patriotism over partisanship & whose legacy in the US Senate will last generations. From immigration reform to foreign policy, it was a privilege to work with John McCain. Rest In Peace my friend. America is a better place because of you.

— Senator Bob Menendez (@SenatorMenendez) August 26, 2018
My heart is with the McCain family in this tough time. We lost a great American tonight.

— Mark Warner (@MarkWarner) August 26, 2018
John McCain was an American hero, a man of decency and honor and a friend of mine. He will be missed not just in the U.S. Senate but by all Americans who respect integrity and independence. Jane and I send our deepest condolences to his family.

— Bernie Sanders (@SenSanders) August 26, 2018
Today, we lost an American hero and patriot. John McCain's service to our nation will always be remembered. He lived a life driven by deep love of our country and his inspiration will live on.

— Sen. Tammy Baldwin (@SenatorBaldwin) August 26, 2018
Jaime and I are praying for Cindy and the entire McCain family. John was a patriot and hero, and I'll miss his leadership in the Senate.

— Cory Gardner (@SenCoryGardner) August 26, 2018
My friend and America's hero, John McCain, landed safely tonight at Heaven's gates.

— Senator Dick Durbin (@SenatorDurbin) August 26, 2018
John McCain was an honorable public servant who sacrificed greatly to serve his country and the people of Arizona. His death is a great loss for this country, his family and friends. My deepest sympathies &condolences are with Cindy, their children &family at this difficult time.

— Senator Ben Cardin (@SenatorCardin) August 26, 2018
Senator John McCain was a patriot, and an extraordinary American war hero. –> https://t.co/V6rRUTKWZa

— Senator Ted Cruz (@SenTedCruz) August 26, 2018
I feel so fortunate that I had a chance to learn from him and laugh with him. He was a tremendous role model for our democracy and gave his life to the public good. My love to the McCain family.There'll never be another like #JohnMcCain.

— Claire McCaskill (@clairecmc) August 26, 2018
How lucky us chosen few were to count John McCain as a friend or a colleague or a mentor. How lucky America was to have him as as our inspiration, our rock. A masterclass in life, leadership and patriotism. I miss him already. pic.twitter.com/29OLbaN2QH

— Chris Murphy (@ChrisMurphyCT) August 26, 2018
This story will be updated as more reactions come in.
Have a tip we should know? tips@mediaite.com
Aidan McLaughlin - Editor in Chief