Trump Strains to Explain Biden Joke NYT Got Wrong In Sad, Misleading Boast Over Interview Ratings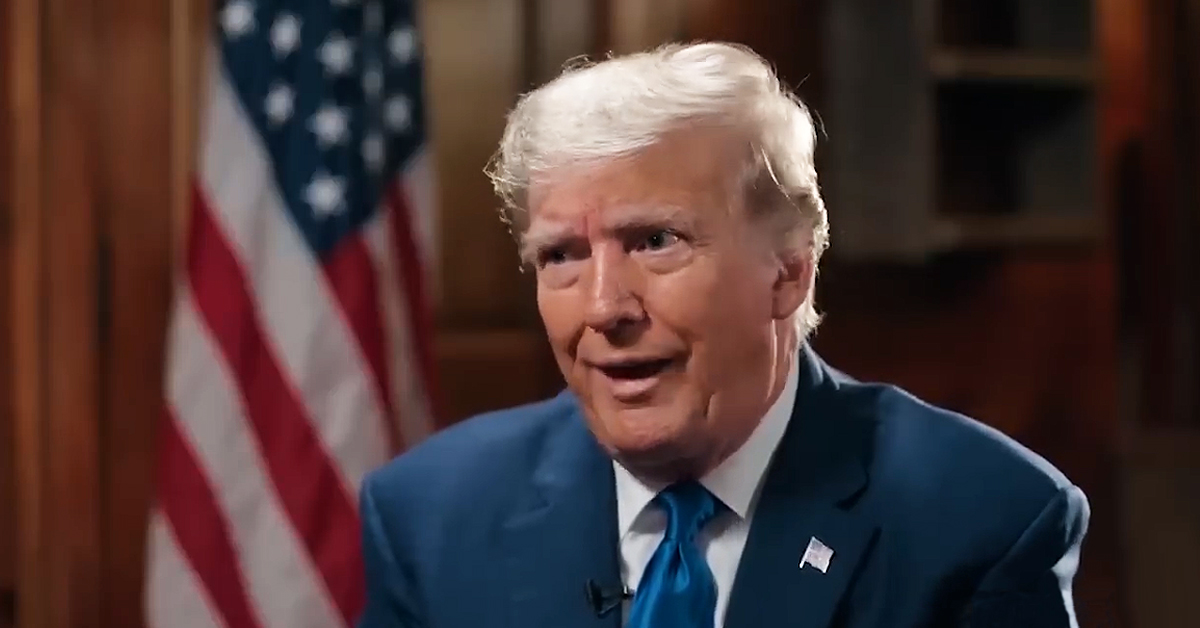 Donald Trump was hopping mad at the New York Times over a Wonders of the World comment about the Panama Canal that he made to Tucker Carlson when skipping the GOP Debate, in a pair of posts on Truth Social raging against a classic Trump target, "fake news."
Trump recently threw a fit at Fox News and the Wall Street Journal for talking about his age, which is a subject he brings up a lot about Joe Biden. "Where did that come from?" he demanded in that rant.
New York Times writer Frank Bruni this week penned an op-ed titled "Trump Is Really Old, Too" — in which the liberal writer posed the question "How would we even notice Donald Trump's lapse into incoherence, when derangement is essentially his brand?"
His first anecdote was on a moment from the Carlson interview in which Trump, in a typical aside, obliquely referred back to the time Biden described the Grand Canyon as one of the "Nine Wonders of the World."
He went on wacky tangents, including one about the wages of building the Panama Canal: "We lost 35,000 people to the mosquito. Malaria. We lost 35,000 people. We lost 35,000 people because of the mosquito. Vicious. They had to build under nets. It was one of the true great wonders of the world."

"One of the nine wonders," he added, then corrected himself. "No, no, it was one of the seven." Seven, nine – he seemed unable to decide, unwilling to commit. "You could make nine wonders," he ventured. I guess that's some limit. Once you hit 10, they're just curiosities. Wonder-ettes.
"But was there a bevy of headlines about a brain ravaged by time?" Bruni asked, implying that the moment would have been big news if Biden had said it. Apparently, he was unaware that it was Biden who said it.
Trump flipped that Bruni didn't follow the ramble within a ramble and understand what Trump was being snarky about, and mid-that rant he inserted a ratings rant.
"Such dishonesty at The Failing New York Times. Recently I did an interview with Tucker Carlson, rather than the debate, which turned out to have more 'views,' at 265,000,000, than any interview ever done (The debate had 11,000,000)," he said. Which … nah.
"During the interview I talked about the Panama Canal, & how we so stupidly sold it back to Panama for one dollar, very sarcastically mimicking Crooked Joe Biden & how truly lost he is…." Trump wrote in his first post.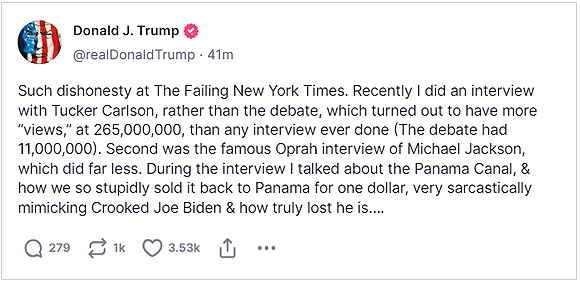 He continued in a second Truth post, which practice he has taken to old-guy labeling as "page 2."
Page 2: You see, Crooked Joe had just called "something" the Ninth Wonder of the World, & it made headlines because it had always been the Seventh. I made it clear in the interview that by my jokingly imitating Biden's recent gaffe, I was just trying to show how truly dumb & out of "it" this guy really is. The Times knowingly tried to make my spoof on him into my making the same mistake as Biden, no sarcasm, no nothing. The writer is untalented & bad, but we always have to call out FAKE NEWS!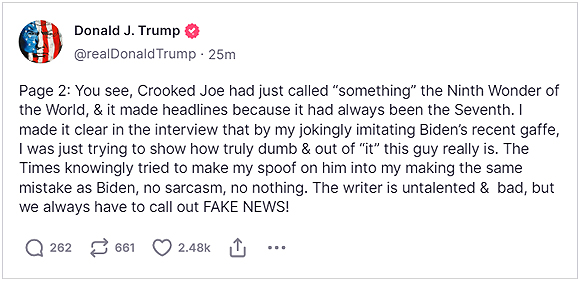 He was, in fact, clearly referring to Joe Biden in the clip and not being indecisive about how many Wonders there are. Here is a longer clip of that comment, replete of courses with Trump asides, tangents, endless repetitions, and windmills.
There ya go.
Have a tip we should know? tips@mediaite.com
Caleb Howe - Contributing Editor