'It's Readily Apparent': Chris Christie Drops Long List of Misdeeds When Asked If The Trump Family Is Corrupt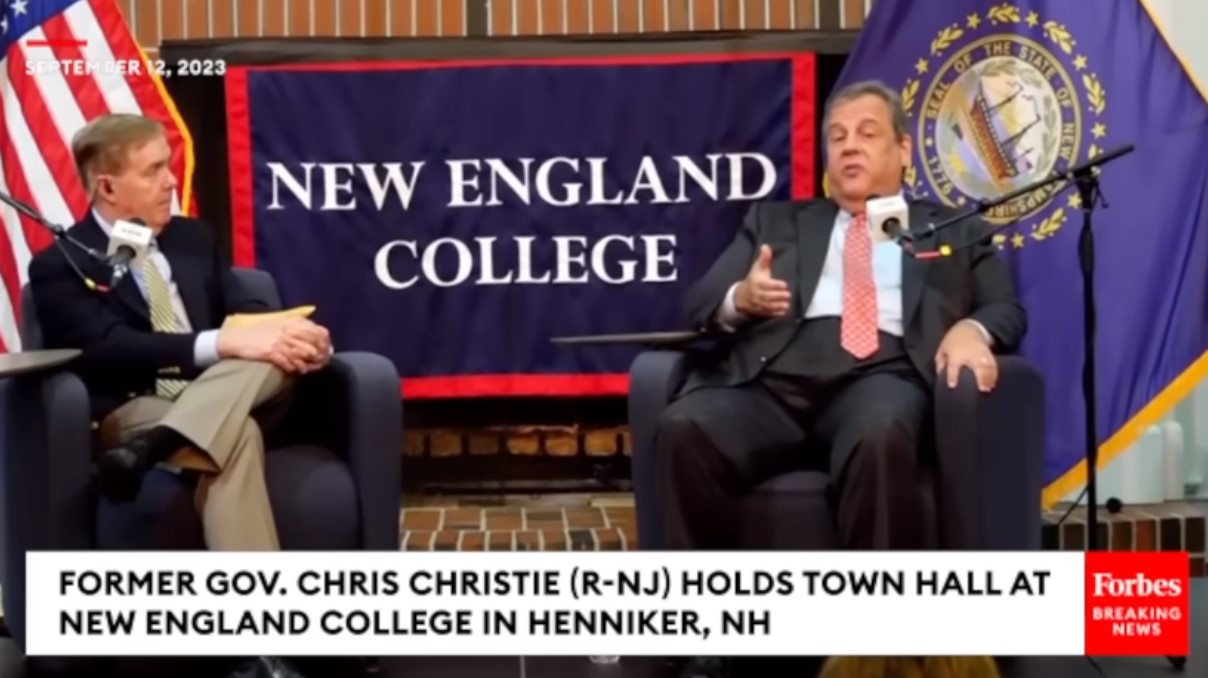 Republican presidential candidate Chris Christie took part in a SiriusXM Town Hall at New England College in New Hampshire on Tuesday and was asked flat out whether or not he believes the Trump family is corrupt.
Christie was asked to weigh in on House Republicans officially opening an impeachment inquiry into President Joe Biden earlier in the day. The former New Jersey governor said he did not believe there was "enough evidence" to impeach Biden at this point, but said the House should use its oversight function to investigate corruption, including "Jared and Ivanka making 40 plus million dollars a year while serving in the White House."
The moderator Steve Scully followed up and asked, "So are you saying that the Trump family is corrupt?"
"Yes. Sure. I mean, it's just I mean, it's it's readily apparent," Christie shot back, adding:
I mean, when you pay your your son's girlfriend 60 grand out of campaign money to give a three-minute speech, you're using money that people donated to you. And by the way, that money was donated by people who wanted to fund him to fight the stolen election, when they donated that money, they didn't think 60 grand was going to Kimberly Guilfoyle to give a three-minute speech.

They didn't think $280,000 was going to Melania's stylist. Right. So I don't know what you would call that other than corrupt. And to send Jared Kushner to the Middle East and then having him within six months, and by the way, the 2 billion he got from the Saudis up until five days ago, he didn't invest in any of that money. He got at six months after they left office in the middle of 2021. We're down to the third quarter of 2023. That's two years he hadn't invested a nickle of the money, but paid himself his management fee out of that money as a percentage of the 2 billion, every quarter, for what? What was he managing? To make sure, pick up the phone and make sure the 2 billion was still there. Okay, great.
"So yeah, that looks like corruption to me," Christie concluded, referring to Kushner paying himself $25 million a year after from his advisory fund after securing major investments from Saudi Arabia, Qatar, and the UAE.
Watch the full clip above.
Have a tip we should know? tips@mediaite.com
Alex Griffing - Senior Editor