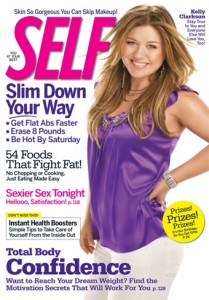 The title bar of Jezebel.com reads: "Celebrity, Sex, Fashion for Women. Without Airbrushing." Ignoring the fact that no modern magazine has "airbrushed" an image since the late '80s, one of the most incessant memes on top women's blogs has been the excessive digital manipulation of cover art on women's mags. The latest dust-up? Kelly Clarkson's slimmed down hips on the cover of Self. In her personal blog, editor-in-cheif Lucy Danziger defends her cover art, essentially saying that it's all part of the fantasy of women's magazines.
Since the day that the Internet started featuring a "comments" section,  readers of women's fashion magazines have begun complaining about the manipulation of cover art. And while every image now gets manipulated in Photoshop, the anachronistic term "airbrushing" still gets thrown around. In fact, while reporting on this for Folio Vanessa Voltotina summarized thusly:
After receiving a great deal of flack for an airbrushed and color corrected (but not Photoshopped) September issue cover featuring Kelly Clarkson — and admitting late last week to the alterations — Self editor-in-chief Lucy Danziger used her Self.com blog to issue a response to the airbrushing "controversy," which has ended up as a kind of defense for magazine cover retouching.

In addition to confirming her "yes, we airbrush" statement, Danzinger wrote that Self's portraits are not meant to be unedited or true-to-life snapshots. She even admits to asking her art department to shave a little off of her hips on a photo of her running the marathon for an editor's letter a few years back. "I am confident in my body, proud of what it can accomplish, but it just didn't look the way I wanted in every picture," she wrote.
Unless they shot the cover art on film and used decades-old technology (extremely unlikely), the cover has most certainly been Photoshopped. So why the "airbrushing" admission by Danzinger? Is that somehow more acceptable than the evils of Photoshop? Who knows. Efforts to reach Self for comment have not yet been returned.
Nonetheless, Danziger's comments are refreshingly candid, even if she did admit to an outdated term of "airbrushing." The fact is that, while retouching photography for magazines will never go away,  maybe the continued hyper-criticism from online readers will begin to affect cover art in the future. Could a more realistic or attainable (yet still aspirational) fantasy mean more newstand sales. Time will tell.
Have a tip we should know? [email protected]