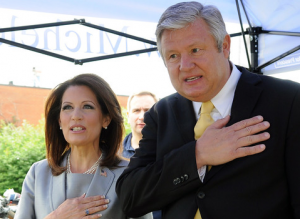 In a sign the campaign of Michele Bachmann wants to limit damage from reports about the Bachmann family clinic–and accusations it tries to use prayer to help homosexuals "pray the gay away"–the candidate's husband Marcus has given an interview to the Minneapolis Star-Tribune, saying that his treatment business is not focused on converting gays to heterosexuality. He also denied that he has ever called gay people barbarians.
"I think the strongest myth…is the myth that I have ever called a homosexual a barbarian," Bachmann said, insisting he was talking about children who need discipline. "I was talking in reference to children. Nothing, nothing to do with homosexuality. That's not my mindset. That's not my belief system. That's not the way I would talk," Bachmann said.
As for an undercover video shot at the Bachmann clinic by activists, which seems to show clinic workers suggesting prayer as a means to resisting homosexual urges, Bachmann said his clinic does help clients who ask for help with same sex attraction, but that is not the focus of his business. "This individual came to us under a false pretense," Bachmann said. "The truth of the matter is he specifically asked for help."
This morning Politico's Alexander Burns writes about the interview and what it reveals about the inner dynamics of the Bachmann campaign:
That Marcus Bachmann would go on the record to discuss these charges is likely a sign that his wife's campaign views the issue as a real liability, even in the short term. The notion that Marcus Bachmann was involved in trying to "cure" homosexuality would presumably be most damaging to Michele Bachmann in a general election, or later down the primary calendar. But there's also a circular nature to these things: Even some hard-line social conservatives who are sympathetic to Marcus Bachmann may balk at supporting someone who has been defined as unelectable and out of the mainstream.
Have a tip we should know? tips@mediaite.com