New Republic Contributor Takes a Torch to MSNBC's Russia Coverage: 'Just as Bonkers' as Glenn Beck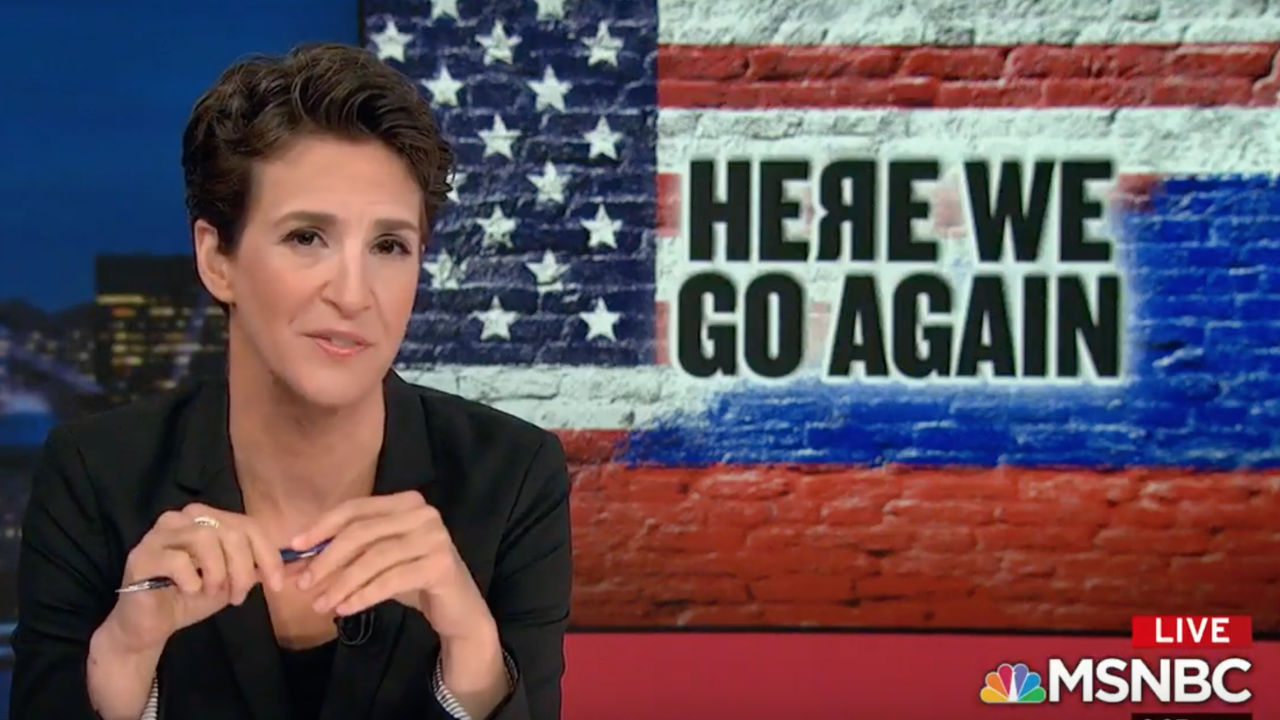 A contributor for the New Republic wrote an extensive piece diving into MSNBC's ride on the Trump-Russia train, comparing some of the network's coverage, particularly Rachel Maddow's show, to one of cable's most infamous conspiracy theorists.
As Jacob Bacharach writes in the liberal mag:
Maddow's prime-time hour of overheated speculation lacks the antic sensibility and maudlin sentimentality of, for instance, the pre-exile Glenn Beck, who had scribbled all his manic and intricate chalkboard theories of history as conspiracy (and vice versa) with the studied passion of a coffee-shop prophet. But Maddow—and much of her network these days—is frequently just as bonkers.
Bacharach runs down the MSNBC lineup, from Maddow to Lawrence O'Donnell to Chris Matthews and all the pundits they pack segments with, and packs a punch when describing the network's reliance on former FBI officials (John Brennan, frequent MSNBC guest, is featured in the piece):
The result is an unfortunate tendency to rehabilitate dubious people and organizations the moment they line up against the right villains. How else to explain the sudden liberal affection for the FBI, the office of the special counsel, the "intelligence community"?
After the findings of Robert Mueller's report were revealed — at least what we know of them from the attorney general's summary — Bacharach writes MSNBC "pivoted to a meta-narrative about the meta-narrative, in which the details of the report's eventual release were examined with the diligence of augurs watching flocks of wheeling birds in ancient Rome."
"Well, one of the fundamental features of a conspiracy narrative is that it cannot end," he adds.
Bacharach estimates that is the "fundamental appeal" of MSNBC — that there is always more to pin on President Donald Trump — and explains it's ratings success.
Bacharach also points out that the myopic fixation on the Trump-Russia story has led the network to ignore other important news, leaving its viewers in the dark: "It is possible to watch an entire primetime lineup without mention of Brexit, of the gilets jaunes, of any Eurasian politics beyond the bogeyman Putin and some snarking at Trump's vague China tariffs." Venezuela, Brazil's new right-wing president, news from the Middle East are hardly covered, Bacharach notes.
He concludes by pondering "what becomes of the network if and when Trump's moment does pass."
Read the full piece here.
Have a tip we should know? tips@mediaite.com
Aidan McLaughlin - Editor in Chief