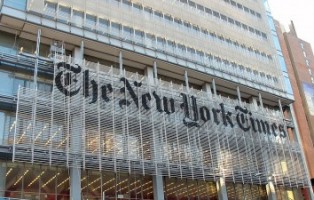 Lately, the New York Times has had a small bit of trouble getting its contributing writers to follow the rules. Freelancer Suzy Buckley was caught plugging her boyfriend's restaurant in a travel column just weeks after shopping columnist Mike Albo was fired for attending a "press junket," in which travel and accommodations were paid for. (Albo didn't even write about his trip.) These, along with a few other questionable situations, resulted in a stern column from public editor Clark Hoyt about the Times rulebook and a plan to "tighten enforcement."
But this weekend, Times watchdog blog NYTPicker caught another writer in an ethical pickle, as Harvard Business School professor and freelancer Prof. Mary Tripsas wrote a Sunday column about business management in which she praised the company 3M. Only 3M had recently arranged for researchers to come to headquarters "for a day-long briefing on the center, their travel and accommodations provided by the company."
Via NYTPicker:
Most of her column focuses on 3M, which she describes as at the "forefront of a movement" that involves customers in the innovation process. After several paragraphs of worshipful description of the place and interviews with the executive in charge, Prof. Tripsas concludes: "[The center] has helped 3M to establish productive, long-term customer relationships."
The blog has more on the specifics of Trispsas' situation (Mediaite has contacted her for comment, as well), but this new instance of ethics violations calls into question a few larger issues:
By now, the Times must realize they have a real thorn in their sides due to NYTPicker's existence. Even though it's a small-time, insidery blog, they have proven that they will notice when the paper slips up, and at least a few people who care are paying attention. And yet direct violation of the rules is still occurring, which brings us to the writers and editors.
Are they being made aware of these rules? Are they choosing to ignore them? Do they know that NYTPicker has an eye on them? Whatever the case, they're probably going to be "caught," and likely fired (unless you're David Pogue), so they need to adjust accordingly.
But more generally, maybe it's time for the Times to rethink their stringent, intensely black-and-white policies. Freelancers are struggling and need to take their breaks where they can. Plus, the paper has cut many jobs, including many editors, making these things hard to catch. That's not to say there should be a free-for-all of favors and freebies, but maybe these things can be judged on a case by case basis. Throw in a little bit of disclosure and you've got far less of a headache.
Have a tip we should know? tips@mediaite.com