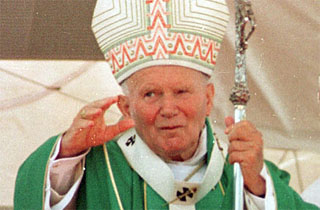 Last night, thieves and/or shapeshifting vampires who worship Satan broke into a small Italian church and stole a vial of Pope John Paul II's blood, NBC News reports.
Currently, fifty policemen and blood-sniffing dogs are on the lookout for the thieves, who broke into the Church of San Pietro della Ienca in the Abruzzo region and stole a reliquary containing the pope's blood, as well as a small gold crucifix…and nothing else. Italian police speculated — yes, really — that due to the fact that they ignored other valuable artifacts, the thieves possibly want to use the Pope's blood in satanic rituals.
Bolstering the Satanic Ritual theory is the fact that only three confirmed samples of Pope John Paul II's blood exists, and that the popular pope will soon be canonized as a saint in April. Also, the police added, it would be incredibly hard to sell the relic, because no private collector in the world would ever want to own a pope's blood, because that would be really, really weird.
The blood was a gift to the church from the late pope's former secretary, as a symbol of the Polish pope's love for the mountains (he often snuck out of the Vatican to ski in the area, and would pray at this particular church). This is a possibility that Satanists would totally be obsessed with if they were to, say, attempt to resurrect the Anti-Christ into the body of a sexy shirtless werewolf.
(Look, if some psycho is in possession of the Pope's blood, and we can't get it back before he uses it in a ritual to Beelzebub to bring the Antichrist into the world and herald the End of Days, all we tiny humans can ask for is that the Anti-Christ is good-looking.)
[NBC News]
>> Follow Tina Nguyen (@Tina_Nguyen) on Twitter
Have a tip we should know? tips@mediaite.com