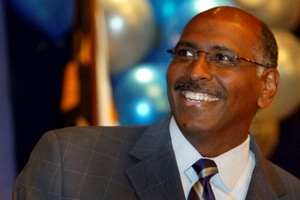 RNC Chairman Michael Steele's tenure has been one of the more controversial in recent memory, and a new AP report shows many RNC insiders are hoping his embattled reign is nearing its end. Interviewing 51 committee members, the AP found 39 were hoping Steele would not run for reelection in January, and even some of his closest allies feel this is the sunset of his time at the head of the Republican Party.
Nearly a month after the Republicans captured the House and made significant inroads in the Senate, resistance to Steele has snowballed rather than diminished, even though Steele himself has not decided whether he will run for reelection:
A significant bloc of Republican National Committee members wants embattled chairman Michael Steele to step aside, but the rank and file have failed to settle on a clear alternative, according to Associated Press interviews with committee members.

More than four dozen interviews with members of the 168-member central committee found fear that a badly damaged Steele could emerge from the wreckage of a knockdown, drag-out fight to head the party as it challenges President Barack Obama in 2012. While most agree that Steele's time has been rough — and costly — the members also recognize that a leadership fight could overshadow gains that Republicans made in the midterm elections.
The biggest complaint against Steele is the amount of money his RNC has spent in comparison the amount he has raised, especially in private circles. The AP quotes one committee member as expressing concern about "spending the kind of money they're spending every month just to operate the RNC." Another major concern is toppling President Obama in 2012, something many doubt Steele has the capacity of doing– despite similar concerns of his incompetence having little negative effect on the November elections.
Steele isn't receiving much support from pundits, either. The conjecture piqued debate on CNN yesterday, where Republican strategist Alex Castellanos argued that, despite Republicans enjoying their biggest congressional gains in centuries, Steele doesn't get to reap the rewards of the effort that got the Republicans there. That segment from yesterday's Situation Room below:

Have a tip we should know? tips@mediaite.com