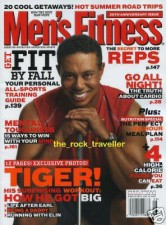 The meta-media angle of the Tiger Woods saga was never the most salacious, especially when compared to car crashes and cougars. So it's easy to understand why the story of Tiger's magazine world wheeling and dealing has garnered far less attention than his raw number of mistresses. Regardless, the media story is out there, thanks to reporting by the New York Post and Wall Street Journal, and it's juicier than it first sounds.
The New York Post reported on Dec. 5 that Tiger Woods was caught in an affair by the National Enquirer in 2007, only to swap an interview and cover story with the tabloid's sister publication, Men's Fitness, even though he had an exclusive partnership deal with a rival magazine, Golf Digest. Via the Post:
Woods' camp, fearful of a potential public-relations nightmare in spring 2007, allegedly agreed to do a cover for Men's Fitness — a magazine owned by the Enquirer's parent company, American Media, former Men's Fitness editor-in-chief Neal Boulton said yesterday.
"[American Media CEO] David Pecker knew about Tiger Woods' infidelity a long time ago," Boulton told The Post. "[Pecker] traded silence for a Men's Fitness cover."
CEO David Pecker, meanwhile, calls Boulton a "disgruntled former employee," but a new report from Friday's Wall Street Journal corroborates the sketchy story.
Mr. Woods had cut an unusual deal with American Media Inc., the owner of both Men's Fitness magazine and the National Enquirer tabloid newspaper. Mr. Woods agreed to the cover shot and photo spread in Men's Fitness, whose circulation of about 700,000 per issue is less than half of Golf Digest's nearly 1.7 million, in return for the National Enquirer squelching a story and photographs purportedly showing Mr. Woods in a liaison with a woman who wasn't his wife, according to people directly involved in the arrangement.
The whole thing — with its trailing paparazzi, secret shadowy rendezvous and blackmail vibes — sounds like a Hollywood script, and the in-depth Journal telling, expanding on the earlier Post scoop, adds another layer to the Woods drama that no news junkie should miss.
How mag helped to cover Tiger's great 'lie' [New York Post]
How Tiger Protected His Image [Wall Street Journal]
Have a tip we should know? tips@mediaite.com