Kaepernick Pushes Back on Report That He'll Stand For Anthem If NFL Team Signs Him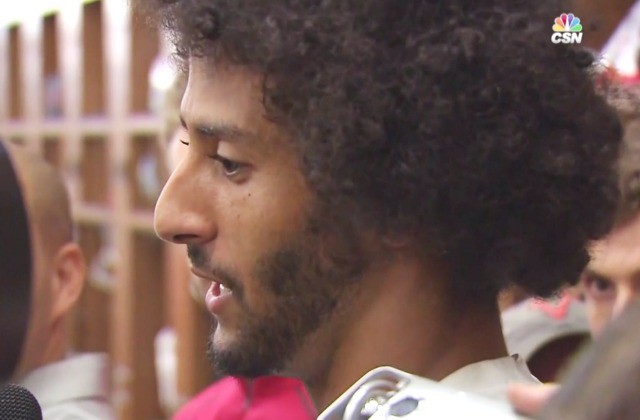 Earlier this afternoon, reporter Jason La Canfora appeared on CBS to deliver some news related to free agent quarterback Colin Kaepernick. During the TV hit, La Canfora noted that Kaepernick was working out 6+ hours a day so he can be ready if an NFL team comes calling. The reporter also noted that Kaepernick said he'd be willing to meet any time or place for a workout with a team.
Oh, and he also tossed out a little tidbit that Kaepernick will stand for the national anthem.
That story spread like wildfire and was picked up by outlets far and wide — including yours truly — before La Canfora had a chance to clarify that he hadn't actually discussed Kaepernick's stance on the issue in their conversation. Per La Canfora, he was repeating earlier reports, likely from March when ESPN reported the QB had told others that he'd stand as felt his message on social inequality had already been affirmed.
After the story hit this afternoon, Kaepernick began retweeting others who said the report was false, including one from his girlfriend.
The reports that Colin will stand for the anthem are completely false! He has never discussed this with anyone. pic.twitter.com/tWusUBJMeF

— NESSA (@nessnitty) October 8, 2017
And he eventually responded himself, tweeting out a quote that has been atributed to Winston Churchill about how quickly a lie can travel:
A lie gets halfway around the world before the truth has a chance to get its pants on.

Winston S. Churchill

— Colin Kaepernick (@Kaepernick7) October 8, 2017
Meanwhile, the NFL protests during the national anthem once again jumped to the top of the news cycle not only due to the false Kaepernick story but also because Vice-President Mike Pence left today's game between the Indianapolis Colts and San Francisco 49ers over players kneeling.
[image via screengrab]
—
Follow Justin Baragona on Twitter: @justinbaragona
Have a tip we should know? [email protected]