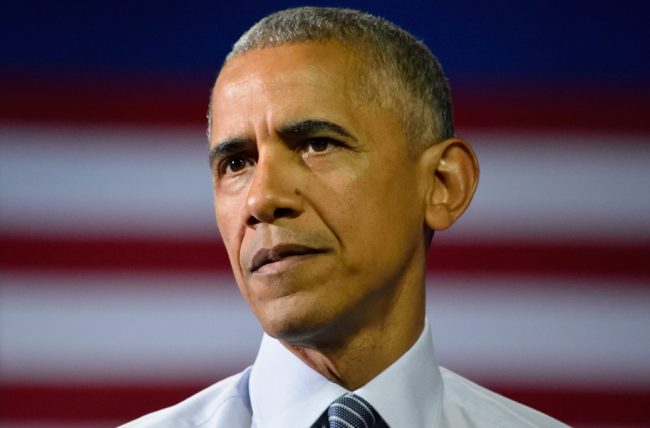 Former President Barack Obama has spoken out about the Trump administration's decision to end DACA.
There was reporting ahead of time that such an announcement would compel Obama to speak out publicly on the actions of his successor, and indeed it did:
"To target these young people is wrong – because they have done nothing wrong. It is self-defeating – because they want to start new businesses, staff our labs, serve in our military, and otherwise contribute to the country we love. And it is cruel. What if our kid's science teacher, or our friendly neighbor turns out to be a Dreamer? Where are we supposed to send her? To a country she doesn't know or remember, with a language she may not even speak?"
He does not mention President Trump by name, but is very critical of his actions:
Ultimately, this is about basic decency. This is about whether we are a people who kick hopeful young strivers out of America, or whether we treat them the way we'd want our own kids to be treated. It's about who we are as a people – and who we want to be.

What makes us American is not a question of what we look like, or where our names come from, or the way we pray. What makes us American is our fidelity to a set of ideals – that all of us are created equal; that all of us deserve the chance to make of our lives what we will; that all of us share an obligation to stand up, speak out, and secure our most cherished values for the next generation. That's how America has traveled this far. That's how, if we keep at it, we will ultimately reach that more perfect union.
Former Vice President Joe Biden also weighed in:
Brought by parents, these children had no choice in coming here. Now they'll be sent to countries they've never known. Cruel. Not America.

— Joe Biden (@JoeBiden) September 5, 2017
Back in January, Obama indicated that one of the things that would compel him to speak out would be "efforts to round up kids who have grown up here and for all practical purposes are American kids, and send them someplace else, when they love this country."
Obama announced back in 2012 his administration would be taking action "in the absence of any immigration action from Congress to fix our broken immigration system."
President Trump said in his statement today that it's time for Congress to act.
Last Friday Trump said that he "loves" the Dreamers, and in his statement today he said, "I do not favor punishing children, most of whom are now adults, for the actions of their parents. But we must also recognize that we are nation of opportunity because we are a nation of laws."
He also had this to say about his predecessor:
In June of 2012, President Obama bypassed Congress to give work permits, social security numbers, and federal benefits to approximately 800,000 illegal immigrants currently between the ages of 15 and 36. The typical recipients of this executive amnesty, known as DACA, are in their twenties. Legislation offering these same benefits had been introduced in Congress on numerous occasions and rejected each time.

In referencing the idea of creating new immigration rules unilaterally, President Obama admitted that "I can't just do these things by myself" – and yet that is exactly what he did, making an end-run around Congress and violating the core tenets that sustain our Republic.
You can read Obama's full statement here:
[image via Evan El-Amin / Shutterstock.com]
— —
Follow Josh Feldman on Twitter: @feldmaniac
Have a tip we should know? [email protected]
Josh Feldman - Senior Editor