President Trump Golfs For THIRD Day in a Row After Tweeting It Was 'Back to Work'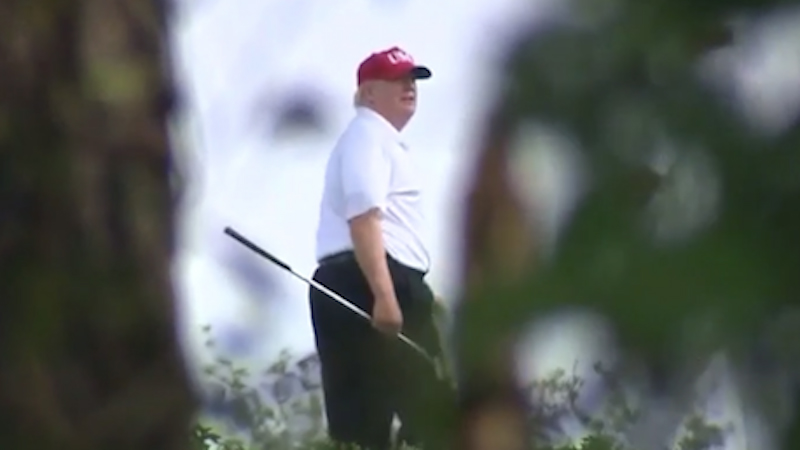 After President Donald Trump successfully saved Christmas from a guy at Walgreens who once said 'happy holidays' by mistake, he triumphantly tweeted that he would be getting back to work the very next day, toiling in the hot Florida sun to make America great again "faster than anyone anticipated."
Welp, he's been toiling alright, just not exactly in the way we may have anticipated. For the third day in a row, since posting that tweet, Trump has hit the links, golfing like the very fate of the country depended on it.
And who are we to say? Maybe the very fate of the country does depend on it. Maybe every time Trump sinks a put, a job creating angel gets its wings. Maybe the nefarious deep state has promised to get deeper and, uh, state-ier, if he doesn't continue to improve on his short game.
If that's the case, he sure has been working overtime on behalf of the American people. According to NBC News, this is his 87th day working on his handicap since inauguration day.
To be fair, Barack Obama also spent a fair amount of time on the golf course, a point Trump repeatedly referenced on the campaign trail, exclaiming to adoring crowds that he would not "have the time" to golf if elected, saying he would "just want to stay in the White House and work my ass off."
Between this and inexplicably hate-tweeting about Vanity Fair, his ass seems most decidedly on. This American carnage stops… nowish?
[image via screenshot]
—
Follow Lawrence Bonk (@sidescrollers) on Twitter
Have a tip we should know? tips@mediaite.com