Twitter Piles on Trump After He Golfs Second Day in Row Following 'Back to Work' Tweet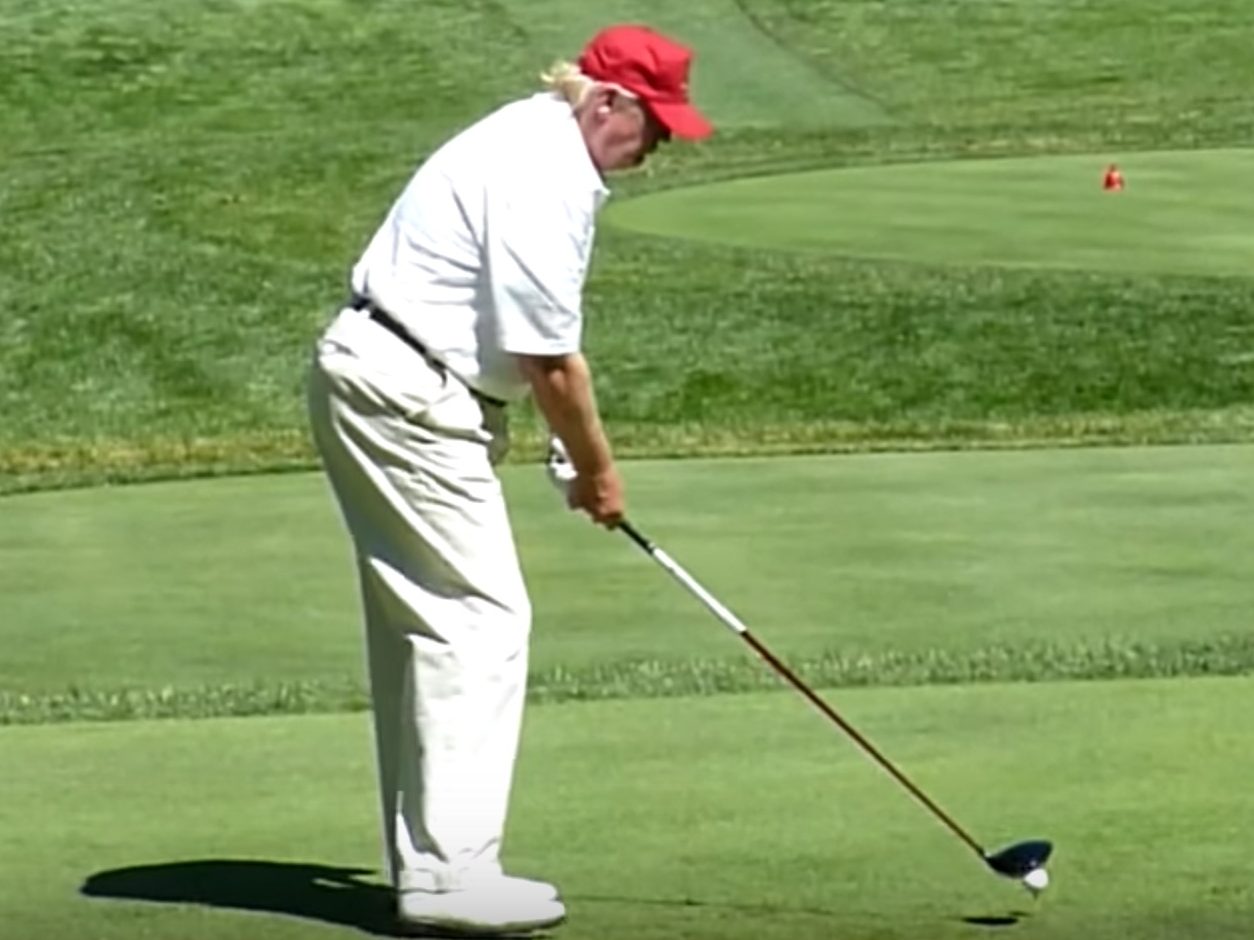 After President Donald Trump successfully saved Christmas from the evil Starbucks hobgoblins, he triumphantly tweeted that he would be getting back to work the very next day, toiling to make America great again "faster than anyone anticipated."
So, imagine everyone's surprise when he showed up at the golf course to hit the links with PGA Tour golfer Bryson DeChambau, former PGA player Dana Quigley and Sen. David Perdue.
OK. Day after Christmas, filled to the gills with tryptophan and he golfed, no big deal. There was a senator present, after all, so maybe they talked about, uh, something or another? That's sort of like work.
Guess what? According to press reports, the president just showed up today at another one of his golf courses to, yeah, once again attempt to hit a very small ball into a very small hole. That's two days in a row after so enthusiastically exclaiming it was time to get back to work.
According to an NBC report, this is the 86th day he has spent golfing in just under a year in office. Again, it's very possible he's on the phone, wheeling and dealing, as he carts around the golf course, but remember, this is the man who repeatedly lampooned Barack Obama for golfing and said he would not "have the time" to golf if elected, also saying he would "just want to stay in the White House and work my ass off."
So, yeah, being as how it is now two days in a row for Trump on the golf course, coupled with the fact that he is on track to triple Obama's time on the links, media Twitter took notice. They took notice hard.
This is the second day in a row that Trump has arrived at his golf course following this tweet where he said after Xmas "its back to work."

There are no other events today on his public schedule. https://t.co/07GOOsR5gH

— Kyle Griffin (@kylegriffin1) December 27, 2017
He's working on his slice. https://t.co/fAY7DHKI2e

— David Corn (@DavidCornDC) December 27, 2017
From Trump pretending he's not golfing during his visits to golf resorts to Paul Ryan pretending he wrote a middle class tax cut it's a bottomless pit of bad faith and needs to be seen for what it is.

— Matthew Yglesias (@mattyglesias) December 27, 2017
The President has arrived at Trump International Golf Club in Palm Beach. White House hasn't said who he's golfing with, or even if he's golfing this morning (narrator voice: He's golfing)

— Garrett Haake (@GarrettHaake) December 27, 2017
Live look: Trump working in the Oval Office

Oh, nevermind. He's still golfing. pic.twitter.com/4UODWO1aYi

— Scott Dworkin (@funder) December 27, 2017
Trump, at Mar-a-Lago, on Dec. 25: "Tomorrow it's back to work in order to Make America Great Again!"

Trump on Dec. 26: Went golfing at his West Palm Beach golf course, no public schedule.

Trump, today, Dec. 27: Went to his West Palm beach golf course, no public schedule. pic.twitter.com/mmKxNZqlYG

— Tom Namako (@TomNamako) December 27, 2017
Trump rolled into his golf course in West Palm Beach at the stroke of 9 a.m. today for some more Christmas vacation golfing.

— Jennifer Jacobs (@JenniferJJacobs) December 27, 2017
Trump is on his second day of golfing and Monday he said "tomorrow it's back to work…" #DumpTrump #Resist pic.twitter.com/HyfHkJSc2L

— Jeff Strater (@jeffstrater) December 27, 2017
Here's how the right reacted to CNN's video catching Trump golfing when he said it was time to get 'back to work' https://t.co/3azrFun5mD via @dailydot pic.twitter.com/QhALR2LZmq

— Andrew Wyrich (@AndrewWyrich) December 27, 2017
abby i am dead from surprise

— Philip Bump (@pbump) December 27, 2017
So they scream in apocalyptic horror at every action Trump makes while simultaneously pointing and indignantly shouting 'LOOK! HE'S GOLFING AGAIN AND NOT WORKING!!'

— Chad Felix Greene (@chadfelixg) December 27, 2017
The White House has stated that Trump has no public events on the docket for today.
[image via screenshot]
—
Follow Lawrence Bonk (@sidescrollers) on Twitter
Have a tip we should know? tips@mediaite.com