2015 Cable News Ratings: Fox and CNN Retain #1 and #2 Spots, but MSNBC is Gaining Quickly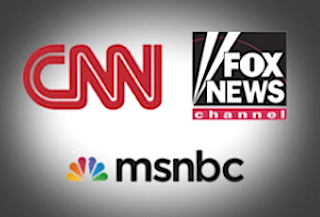 2015 is almost over, which means it's time to tally up the end-of-year cable news ratings numbers from Nielsen Media Research — as reported and reinterpreted by the major news networks. Unsurprisingly, Fox News easily retained the top spot while CNN and MSNBC duked it out for second place yet again.
This year gifted Roger Ailes' baby with its most significant accomplishment yet — second place overall among all primetime cable channels. Now we'll just have to count the seconds before Donald Trump takes the credit.
Check out the cable news ratings highlights breakdown below, organized by network.
Fox News
The Fox News Channel's 14-year streak leading CNN and MSNBC didn't change much. Weekday primetime numbers jumped 3 percent to 1.789M for total viewers, nearly tripling and quadrupling the other two cable news networks' total numbers. As for the coveted A25-54 demo, Fox News averaged 339K — an increase of 13 percent from last year.
Their biggest claim to fame in 2015 was its ranking among all cable channels. That's because for the first time in its history, Fox News claimed the second top spot in primetime and the third in total day with 1.080M in total viewers — its highest in 20 years. ESPN beat them in primetime, whereas Nickelodeon and Adult Swim swept the first and second top spots in total day. Even so, for a cable news channel, these accomplishments easily outpaced CNN and MSNBC.
For the second year in a row, The O'Reilly Factor, The Kelly File and Hannity posted significant gains in the advertiser-preferred demo. Bill O'Reilly's titular news program reached the total viewers and demo top spots, the latter garnering a 13 percent gain with 483K. As for Megyn Kelly and Sean Hannity's late night programs, they claimed a 16 percent increase with an average of 433K demo views, and a 10 percent increase with 342K demo views respectively.
Of course, Fox News' most noteworthy accomplishment was its record-breaking GOP debate in August, which attracted more than 24M viewers. With 7.9M of those viewers hailing from the coveted demo, it quickly became not only the network's best-rated program ever, but the highest-rated cable news program of all time.
CNN
Last year, CNN was really excited to boast its better-than-MSNBC numbers — mainly because it didn't do so well in 2013. This year, their press release boasted the following headline: "CNN IS THE FASTEST GROWING TOP 40 CABLE NET IN 2015." So they're still doing pretty good, and aren't too shy about telling everyone.
They averaged 712K total viewers and 235K in the A25-54 demo during primetime. As for total day, the network earned 490K in total viewers and 149K in the demo. Compared to Fox News, these numbers are sometimes a third to half of what was posted. Yet CNN narrowed the gap between it and FNC the most in seven years, while beating MSNBC with its biggest advantage in 10 years.
Much of this had to do with early morning show New Day's sweeping advances and CNN's original programming. For the second year in a row, the Chris Cuomo-led program beat MSNBC's Morning Joe and earned the time slot's second top spot behind Fox & Friends with 14 percent gains in total viewers (361K) and 10 percent gains in demo (114K). As a result, New Day has given CNN its biggest morning show advantage over MSNBC in seven years.
As for the network's much-touted original programming, most of its new and continuing shows have claimed the top spots in their time slots during airtime. Finding Jesus: Faith, Fact, Forgery, The Wonder List with Bill Weir, High Profits, Anthony Bourdain: Parts Unknown, Death Row Stories, The Hunt with John Walsh and Mike Rowe's Somebody's Gotta Do It all ranked #1 in the coveted demo for their respective time slots.
Not bad, Jeff Zucker. Not bad. For the CNN CEO and President's third year in power, his inclination for more original programming has paid off.
MSNBC
Overall, 2015 was not a great year for MSNBC. Like 2014, the network spent most of its time trailing behind CNN, vying for the second-place spot far behind Fox News. Yet the network's fourth quarter saw a huge spike in the numbers — mainly due to the cable news channel's midyear shakeup to focus more on breaking news coverage. (Thanks, Brian Williams!)
When it comes to overall numbers, MSNBC garnered 579K total and 143K demo in primetime, and 352K total and 91K demo in total day. Their total viewers for total day (352K) average managed to post a 2 percent increase from 2014, but everything else was in free fall. Hence why the network closed several shows and transitioned almost exclusively to breaking news.
As a result, its fourth quarter saw huge gains — especially with early morning program Morning Joe. For while MJ faltered to New Day's advances on CNN throughout the year, its fourth quarter numbers shot up 47 percent in total viewers and 18 percent in the target demo, with an increased average of 511K to CNN's 413K. Of course, these advances are the result of a single quarter — but if they're any indication, then CNN will have to think fast if it wants to retain its advantage in 2016.
Then again, solid programs like The Rachel Maddow Show retained the network's highest numbers in competition with CNN's later programming. Posting gains of 26 percent in total viewers (849K) and 18 percent in demo (160K) throughout 2015, Rachel Maddow's popular program kept its head held high.
And the winner is…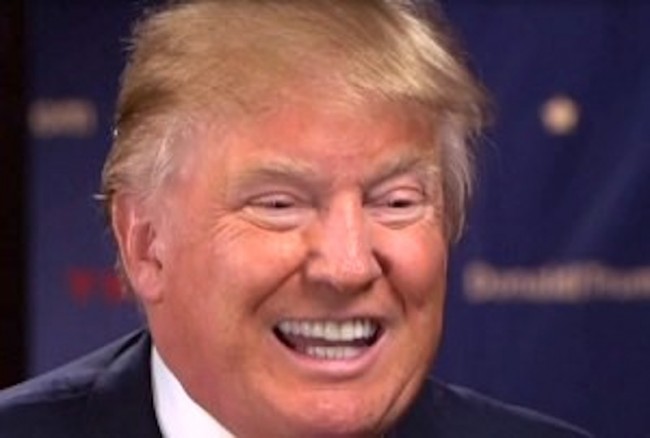 The Donald, obviously.
As much as most people will hate to admit it (including Fox News, CNN and MSNBC), Trump's campaign announcement last summer ushered in a wave of cable news media publicity for the upcoming 2016 presidential election unlike anything ever seen before. Hence reigning champion Fox News' record-breaking GOP debate in August, CNN's continued rise in second place and MSNBC's mid-year decision to revert back to breaking news coverage.
Welcome to 2016, everybody. It's the year of a presidential election, and it's going to be YUUUUUGE.
[Image via screengrabs]
— —
>> Follow Andrew Husband (@AndrewHusband) on Twitter
This is an opinion piece. The views expressed in this article are those of just the author.