In case you missed it over the weekend, New York Magazine ran a truly fascinating deep-dive by Gabriel Sherman looking at NBC News' extensive woes.
It's well worth your read, especially for the stunning amount of detail, but to whet your appetite, here are what he believe are the most jaw-dropping internal NBC details from the piece:
1) Brian Williams Wanted to Be a Late-Night Host So Damn Much…
How much? He once approached CBS about taking over The Late Show for David Letterman. And this was after he had already approached NBC brass about taking over The Tonight Show after Jay Leno's exit:

—
2) Matt Lauer Described Having Female Bosses as 'Lilith Fair'
The story has always been that the Today Show host is pretty opinionated when it comes to his show's programming decisions, and this article only cemented it. But perhaps most interesting is just how skeptical he was of having multiple female bosses try to meddle with his show: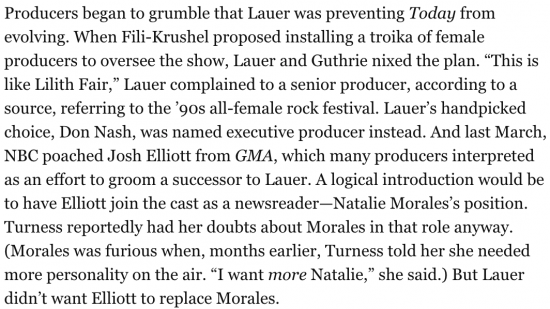 —
3) Brian Williams Wanted to Avoid Reporting 'Divisive' News
If you needed any further evidence that BriWi was all about the ratings and celebrity rather than the fundamentals of journalism, look no further than this Sherman excerpt describing how the newsman fought tooth and nail against reporting "divisive" (read: important) news stories because he just wanted to keep it light, funky, and fresh: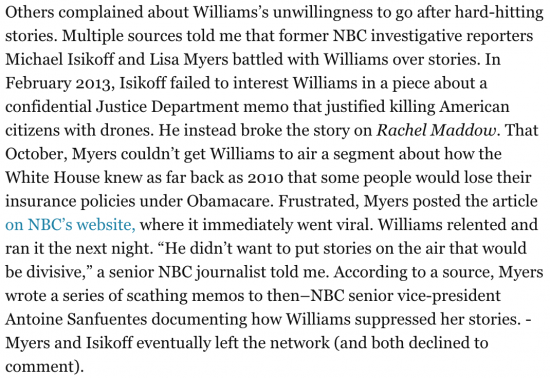 —
4) NBC Execs Were Willing to Try Anything to Boost Meet the Press Ratings
We already knew that NBC reached out to Jon Stewart to replace David Gregory, but if they were to have kept Gregory, here are some of the bizarre ideas they might've tried:

—
Read the full piece here.
— —
>> Follow Andrew Kirell (@AndrewKirell) on Twitter
Have a tip we should know? tips@mediaite.com