60 Minutes Goes Undercover to Reveal the 'Dial-For-Dollars' Call Centers of Congressmen
"The number one priority they tell new members of Congress is: raise money, raise money, raise money," David Jolly (R-FL) told CBS's Norah O'Donnell as part of 60 Minutes Overtime.
The story that O'Donnell was covering for 60 Minutes dealt with the call centers that elected officials spend upwards of 30 hours per week inside of with one express purpose: make phone calls to influential donors to raise money. To go inside the call centers and show what it is really like, the 60 Minutes production team made the decision to go undercover and use a hidden camera to show the inside of the call center. O'Donnell noted that her team had previously asked to show the room on-cameras, but was denied.
"It turns out there are no pictures or footage of what these call centers look like," said O'Donnell in the Overtime segment. "If lawmakers who are paid by the American taxpayers are spending a majority of their time raising money on the phone, I think it's an important part of our story to see what those offices look like and take our viewers behind the scenes, in this case, with a hidden camera," she continued.
Producer Pat Shevlin confirmed that efforts to enter the rooms with cameras were previously denied. "We were pretty scrupulous about it," said Shevlin, admitting to the legal conversations and ethical issues surrounding the footage that 60 Minutes obtained. Shevlin was mum on may of the other details surrounding the operation, including who may have helped orchestrate the walk-through. Additionally, Shevlin confirms simply that the CBS "camera shop" has clever ways to hide equipment.
Here is a screen grab from the report that reveals a wall-mounted spreadsheet with a dizzying array of figures. Those numbers, according to O'Donnell, indicate the fundraising totals for members of Congress: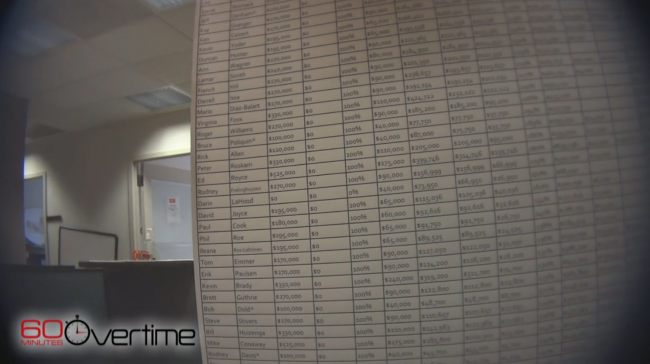 "In some ways, it's a competition," says O'Donnell about the call centers that are a necessary priority for all elected Congressmen.
For O'Donnell, the decision to risk it and obtain the footage was an obvious one. "I'm a reporter who covered Capitol Hill for many years. I didn't realize those call centers existed. So I'm sure many people in the American public don't realize that that's how many lawmakers are spending a lot of their time," she said in Overtime.
Watch the above report from CBS' 60 Minutes Overtime.
—
J.D. Durkin (@jiveDurkey) is a columnist at Mediaite.
[image via screengrab]
Have a tip we should know? tips@mediaite.com