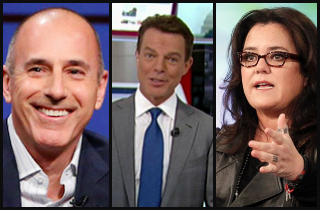 We continue to hear about the gap between the rich and poor widening in this country, even under a president who vowed to level the playing field for all Americans.
The stats are staggering: According to U.S. Census figures, the poverty level in the country is currently at a 50-year high, while the so-called richest one percent have been feasting on the record highs of Wall Street that neither party would dare take credit for. All of this while a record 47 million Americans now receive food stamps, which is almost 13 million more than when President Obama came into office.
The pay gap also continues to expand in the world of television news, where the difference between the rich (mainly anchors/hosts) and the poor (production assistants, bookers, associate producers, small-market reporters, etc.) is just as vast. Which is why it must be painful for some in the business to soak in TV Guide's annual highest paid list in the news business (and television as a whole). A few of the highlights and lowlights:
– Ronan Farrow currently gets paid $650,000 per year by the folks at MSNBC. If that number feels familiar, it's only because Chelsea Clinton reportedly made almost the same amount while working at the Peacock. Only difference? Despite Mr. Farrow's struggles, he does show up for work five days a week while hosting his soon-to-go-bye-bye one hour afternoon program. The former First Daughter also had the kind of 24/5 mentality that is required when starting out in television: Of course, that meant in Chelsea's world working 24 hours a month, five weeks per year in earning her astronomical annual salary.
– These numbers pale in comparison to what most others in their 20s are raking in while working overnights, weekends and weekend overnights. In speaking with two employees around the same age as Mr. Farrow and Ms. Clinton currently working at two national cable networks, they are each making under $30,000 as a production assistants. Not totally horrible in some parts of the country until factoring in the cost of living in New York, where an aging 500-square-foot studio in Manhattan can be had for just over $2000.00/month on average (according to the New York Post), or $24K a year. After taxes, that $30K salary doesn't even pay the rent.
– ABC pays its newest World News Tonight anchor David Muir $5 million per year, or the same amount Whoopi Goldberg and Rosie O'Donnell are compensated annually by The View on the same network. CBS Evening News anchor Scott Pelley, who is currently third in the Big Three evening newscast race, makes $2 million more than Muir (Note: Pelley also is a correspondent for the perpetually-highly-rated 60 Minutes, hence the bigger paycheck)
– Former ESPNer Robin Roberts earns $14 million/year co-hosting ABC's top-rated Good Morning America, or $9.5 million less than The Today Show's Matt Lauer.
– TV Guide says Fox's Shepard Smith doubles the salary of Muir but equals that of NBC's Brian Williams at $10 million/year.
– And since Mediaite ventures into the fictional world of political drama on occasion, it should be noted that the great Kevin Spacey gets $500,000 per episode as Frank Underwood on House of Cards, or $500,000 less than three cast members of The Big Bang Theory on CBS. But the best job ever award goes to scene-stealing Mandy Patinkin of Homeland, who takes in $125,000 per episode despite popping up for about three minutes each week. Tea Leoni gets $125,000/episode to play Hillary Clinton, er, Secretary of State Elizabeth McCord, while Mrs. Clinton made $186,000 per year in that capacity.
Last month it was reported 100 interns are suing CBS and David Letterman's production company Worldwide Pants. The suit claims the interns worked a 40-hour work week performing many of the same tasks as full-time employees. Similar suits are being filed against programs like The Wendy Williams Show as well. Working for little or nothing is all too-common in the news business–particularly on the television side–where a hyper-competitive environment keeps entry-level employee costs low.
But if you're one of the few who can make it to the executive or lead anchor/host level, there aren't enough yachts to waterski behind.
Such is the wage gap in the television news business, which is something many Americans outside the industry can relate to all too well these days.
— —
>> Follow Joe Concha on Twitter @JoeConchaTV
Have a tip we should know? tips@mediaite.com