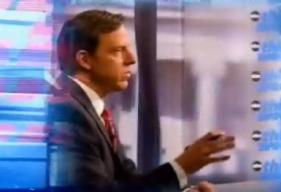 Ever since the non-ABC News hire of Christiane Amanpour for This Week anchor, rumors have circulated about employee discontent over the decision as well as questions over what the show would become with a more internationally-focused anchor at the helm.
Now with Jake Tapper as the permanent interim host until the CNNer takes over in August, Mediaite hears rumblings over staff cuts, Amanpour's hiring and more.
Over the past week, Mediaite has spoken to several ABC News employees in D.C. and New York, as well as This Week Executive Producer Ian Cameron about the shock and disappointment by some over the decision to hire an outsider for the This Week anchor gig in the midst of major cuts at ABC. One employee said that while "the initial shock is gone," many at ABC "don't know what to make" of the Amanpour hire, and are still in the dark about what the show will be. Another said staffers were "furious" that ABC execs went outside rather than promoting one of their many in house political correspondents.
Cameron said ABC is "just beginning discussions about what kind of tweaks and changes we'll do to the program when Christiane comes," but noted "there will certainly be changes." He continued:
The show will continue to have a roundtable, interview newsmakers. I think obviously Christiane is looking more than just inside the beltway for stories, and will be looking abroad, doing more international stories. There's no doubt about that. We'll have a canvas that will be bigger. There will be a lot more using Christiane's strengths and interests, but we will be on the news, we will be there and pushing for newsmaking interviews. I think it's going to be a little more variety than what we've had in the past…We don't expect her to fit into a cookie cutter program we have pre-created for her.
One reason for the in-the-dark nature of what Amanpour's This Week will look like may be because she's still on the air at CNN, which she will be until April 30. One look at her website, however, gives a good indication of her international wheelhouse.
While Amanpour's This Week is up in the air, Jake Tapper's This Week is, interestingly, taking a very solid form. Tapper was a front-runner for the role (and "obviously wanted the job" says one employee), and was named as permanent replacement until Amanpour takes over. This Tapper version has made several key changes in just a few short weeks. There is now live tweeting during the show, using the resources and talent within the D.C. bureau, and a popular fact-checking partnership launched Sunday with Politifact.
To make Tapper's influence that much more obvious, his image is now part of the opening credits on the program (see video below). One staffer notes this provides some "stability" for the show, which the entire bureau feels a "sense of ownership" of. Cameron says Tapper's footprint on the program is expected. "Sunday show anchors, more than any news program, are incredibly important," he said. "Viewers really put their trust in the person there, to answer questions, and they seem to be a much bigger presence across the whole hour. Jake obviously excels on the web and is constantly blogging and tweeting and is very much in contact with that community."
Of course, Tapper's success at This Week so far, and as the next couple months continue, only underscores the questions about bringing in someone new (as one staffer put it, there was surprise that ABC "couldn't find someone inside to do it"). Plus, there's the dichotomy of an outside anchor, after weeks of several internal candidates anchoring, including Terry Moran, Jonathan Karl and Elizabeth Vargas, coming in while longtime employees like Betsy Stark and many more staffers are cut (which has hurt morale, according to several employees we spoke to).
Cameron said these were two separate issues. "We needed an anchor for one of the main flagship news programs," he said. "Christiane was someone we've tried to bring to ABC before. There aren't a lot of opportunities when anchors leave and there are vacancies at main network programs to bring someone on board, and we think she should be here. Someone of Christiane's stature coming to the bureau, coming to ABC, can be nothing but good for ABC, and This Week and this bureau specifically."
But as Tapper continues to thrive with his slightly revamped This Week format (while keeping much of the same themes of the original), and as the D.C. bureau continues their teamwork in building the show in new ways, there will be an obvious and abrupt change when Amanpour comes in. It sounds like we, the viewer, will find out more information about what's to come as those who are left at ABC do as well.
Here's This Week's new opening, with Tapper:


—–
» Follow Steve Krakauer on Twitter
Have a tip we should know? tips@mediaite.com