Al Sharpton Outraged Over Handling Of Trayvon Martin Case: Body Left In Examiner's Office 'Like He Was Nothing'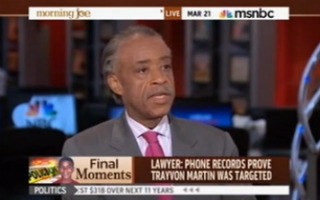 The Rev. Al Sharpton stopped by Morning Joe on Wednesday to speak in depth about the case of Trayvon Martin, the 17-year-old who had been shot to death by a self-appointed community watchman named George Zimmerman. After noting that Zimmerman had made over 40 calls to 911, the group focused on whether Florida's "Stand Your Ground" law holds up in this particular case, as well as whether local Sanford, Florida authorities have been handling this case properly.
Sharpton expressed amazement that local police had let Zimmerman go knowing that he'd ignored a 911 dispatcher's explicit instruction not to pursue Martin. Host Joe Scarborough shared his disbelief, wondering why the police had not arrested Zimmerman on, at the very least, a weapons charge.
RELATED: Lawrence O'Donnell On Zimmerman 911 Tape: 'I Believe What We Have Here Is Evidence Of A Police Cover-Up'
"He should be charged with murder," said panelist Harold Ford, Jr.
Mika Brzezinski wondered whether the state's "Stand Your Ground" law was "literally getting in the way of action being taken."
"No, no, no," Scarborough responded. "It's not the law. It's the police department down there. It's the state attorney's office. And I don't even know who they are down there."
"How can the family even trust the local proceedings without an arrest?" Sharpton added.
So why had Zimmerman yet to be arrested? "I have no idea," said Sharpton. "The only thing we heard, I think March 13th, the police said that they did not have probable cause. Then after Attorney Crump, family attorney, and all of us said 'release the tapes, release the tapes, release the tapes,' when they released the tapes, we found out they did have probable cause because their own tapes show he was not defending himself, he was pursuing Trayvon Martin. So what do you mean, you don't have probable cause, when you have on tape "don't pursue!" …He pursues anyway."
"In fact," he added, "the only one that could have been standing their ground here would have been Trayvon Martin, ironically."
He also expressed outrage over the fact that Martin's body had been left at the medical examiner's office for three days "like he was nothing" while his father called hospitals, frantically trying to locate his son. Nor did authorities think to check Martin's cell phone to see what calls he'd made prior to his death. "Of course there's outrage!" he observed.
"They have acted shamefully," Scarborough agreed, adding that they have proven themselves "unworthy of representing the people of Florida."
Watch, via MSNBC:
Have a tip we should know? tips@mediaite.com