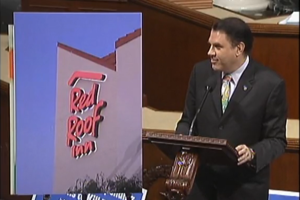 Controversial Florida Congressman Alan Grayson delivered one of his signature posterboard slideshows on the House floor yesterday, though this time he didn't accuse the Republicans of wanting anyone to die. Instead, he discussed auditing the Federal Reserve, on which he is negotiating for bipartisan legislation with libertarian Rep. Ron Paul. And yesterday, he was the bearer of good news to Americans: congratulations, you now own the Red Roof Inn!
Here's how Rep. Grayson delivered the tidings:
"I want to congratulate the gentleman and, in fact, everyone in America, because you now own a hotel chain. Congratulations! It's this one, right here [pointing to poster board]. You own the Red Roof Inn. Now, I know what you're thinking. You're thinking, 'that's funny, I don't remember buying the Red Roof Inn,' but the Federal Reserve Bank, in it's wisdom, has done it for you. The Federal Reserve Bank has seen to it that you have the pleasure of ownership of this delightful chain of hotels that extends from sea to shining sea. You, America, you are now the owners of the Red Roof Inn chain. Congratulations!"
He continued the tale in storybook fashion, explaining that the Federal Reserve wanted to do a "leverage buyout," which Wall Street helped them out with– all they needed was "some sucker" to pay. The Fed itself became that "sucker," but, in doing so, they passed the ownership of the inn– which Grayson describes as an asset only a mother could love– down to "John Q. Public." The he continued to point out that 86% of the money allocated to the fund that bought the Red Roof Inn was labeled "hospitality," meaning this could possibly not be the only hotel chain on the taxpayers' tab. He ended by warning that if it continues, "you'll have enough to put a hotel on Marvin Gardens, on Park Place, and probably on Boardwalk, too! You'll own all the hotels in America, and isn't that something?"
Somewhat awkwardly, after Grayson's presentation the representative who yielded his time to him mumbles something regretful about assuming Grayson was going to talk about financial reform, not the Federal Reserve.
Video below:

Have a tip we should know? tips@mediaite.com