Amy Poehler Returns For Weekend Update, Becomes NBC's Thursday Night All-Star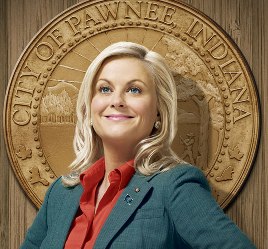 NBC's Thursday night line-up used to be called "Must See TV," and in recent years they've beefed up their comedy offerings and edged back toward that heyday (although not in the ratings yet). There are the big stars – Tina Fey and Alec Baldwin of 30 Rock and Steve Carell of The Office.
But, come September, none will have as much face time as Amy Poehler.
Besides her show Parks and Recreation, which debuted at the end of last season, airing at 8:30pm, Entertainment Weekly's Michael Ausiello reports Poehler will head back to the anchor desk for Saturday Night Live Weekend Update Thursday.
She's currently booked for the first two weeks, beginning September 17, in which she'll co-host with the current solo anchor of Weekend Update, her former co-host Seth Meyers. The third and final edition of the Thursday show does not have a co-host booked.
It doesn't solve the long-term SNL dilemma – whether to add a co-host to the Weekend Update desk. Meyers ably handled the duty at the end of last season, but by also serving as head writer, it may be too much for a solo task. No one in the current SNL cast has any experience with anchoring.
With her Weekend Update Thursday gig, it means Poehler will be highlighted during the entire 8pm hour for the first two weeks of NBC's season. This is prime real estate – and an indication the Peacock Network has high hopes for the former SNL star. Parks and Recreation had decent, but not spectacular, ratings in its short-run debut last spring. But like The Office, it is a character-driven show that audiences may take a little while to warm up to.
Whether there's a new person added who can serve in the anchor role – Darrell Hammond's return is still up in the air – or if Meyers sticks it out alone remains to be seen. Or they could just slot Kristen Wiig in there – she does everything else.
But for the Thursday offering, Poehler's presence is sure to boost viewership, and help all parties.
—–
» Follow Steve Krakauer on Twitter
Have a tip we should know? tips@mediaite.com