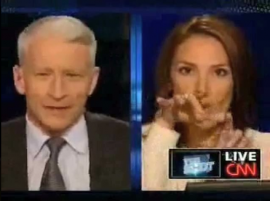 Maybe it's all that medium is the message stuff, but Mediaite has been popping up in the television world a lot lately. Prior to all that scruffy-faced interrupting, Mediaite made a cameo on Anderson Cooper 360's "The Shot."  For those of you out there who might not actually sit cross-legged in front of your television sets waiting for the silver fox to appear each night, "The Shot" is a segment which, according to the AC 360 website, "[Features] an amazing piece of video, a bizarre clip, or a fantastic picture."  Well, apparently someone over there thought our list of "30 Media Muggles and their Harry Potter Counterparts" was either amazing, bizarre, or fantastic – and we really can't figure out which one it is ourselves.
After a quick – extremely quick! – mention of Mediaite Erica Hill and Anderson proceeded to turn our Media Muggles list into a little game show: Anderson played the contestant who actually knows nothing about the topic but tries really hard not to care (notice the early eye-rolling) and Erica is the sly host who laughs her way through the whole thing.
We too learned a couple things from this clip.  First, Anderson Cooper is not a Harry Potter fan.  Second, even though "ridiculous" wasn't one of the requirements to be featured on "The Shot," Anderson thinks our Ron Weasley-Conan O'Brien match-up is "the most ridiculous thing he's ever heard" (@0:50).  He also thinks we were smoking pot while putting our list together (@1:25).  Third, Anderson confesses to seeing Lou Dobbs "late at night" (@1:05).  And lastly, we learned how awkward he can get when told to his face that he is pretty (@2:20).
Thanks for loving our list, making a whole segment about it, mentioning our name under your breath, then pretending it's all just so petty, AC 360!
Related: CNBC practices their Mediaite pronunciation skills.
Have a tip we should know? tips@mediaite.com