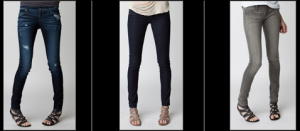 Remember in Anchorman when Will Ferrell sort of sing-songs, "I love Scotch. Scotchy-Scotchy-Scotch"? Well, that's how I feel about jeggings. I love the way they look. I love the way they feel. I love saying the word, again and again. Jeggings! Jeggings! Jeggings! I've been a little obsessed since I first heard about them back in the spring, because they seemed so crazy. They're jeans! They're leggings! Could they possibly seem legit as one when so clearly falling into the family of the other? And yet, the craziest of ideas are often the best, and jeggings may go down as one of the brilliant masterstrokes of humanity. The fit! The lift! The stretch! The awesomeness of how they look with boots and heels and flats and sneaks and even flip-flops! And all wrapped up in the irresistible poetry of that delicious, fantastical word. Jeggings. Jeggings. Jeggings!
I'm a bit late to the jeggings party, which Wikipedia says actually began in early 2009. Oddly, a search for "jeggings" in my email inbox shows that my first exposure to the phenomenon came from — wait for it — Mike Allen of Politico, who helpfully explained the concept on December 20, 2009. (Seriously, is there ANY beat that guy hasn't got covered?) The next jeggs-drop I got was from Gawker around the time of the Olympics, when I was distracted by mittens. Then on March 6th, via Foursquare, I was informed that one of my friends had bought jeggings (at Straweberry — yes it's come to that). Then Styleite launched and I learned about jeggings the old-fashioned way: by very fashionable people posting pretty pictures that made me want things. From then on, the jeggings seed was planted. It was really just a matter of time.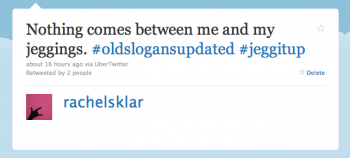 It was a matter of time for all of us, really — because today, Good Morning America got on the bandwagon with a segment on jeggings, modeled by Juju Chang (I had been hoping for George Stephanopoulos). Their expert (jeggspert?), Lucky editor-at-large Elise Loehnen, pointed out that jeggings were everywhere now, and as low as $6 at Wal-Mart; that reminded me that I came very close to buying Hane's jeggings in Canada at a combination post-office gift-shop, until my sister put her foot down. (She was right. I am much happier with my Genetic Denim Shane jeggings in Slink. They feel like silk to touch, and sweatpants to wear.) The point is, jeggings are everywhere — resistance is futile. But why would you? They look awesome and multi-faceted — as Juju Chang points out, you can bend down to show off your ass or to pick up your baby. Well, she didn't mention the ass part but ladies, that trick will never get old. I learned it in Grease 1 and Grease 2. The jeggings they feature are from The Gap, and speaking of Foursquare, they had a deal with The Gap this weekend for 25% off with your Foursquare checkin. They extended that special, I believe for the week though I could be wrong. Who cares, sign up, check in and then cause a scene at the register. It worked for this lady.
All right that's quite enough from me. I have jeggings to wear, and worlds to conquer.


*Old Slogans Updated: If you're too young to know about Brooke Shields and her Calvins, I have no use for you.
**Photo of jeggings from my faves at Genetic Denim. What, me, trying to get free jeggings? THAT IS OUTRAGEOUS.
Have a tip we should know? [email protected]